On 18 May 1987, while birding at Cape May, NJ, I came across a small group of Cattle Egrets foraging in a field. Accompanying them was the bird in the photos below. In shape and behavior it was identical to all of the other Cattle Egrets, but its head and neck were mostly dark grayish.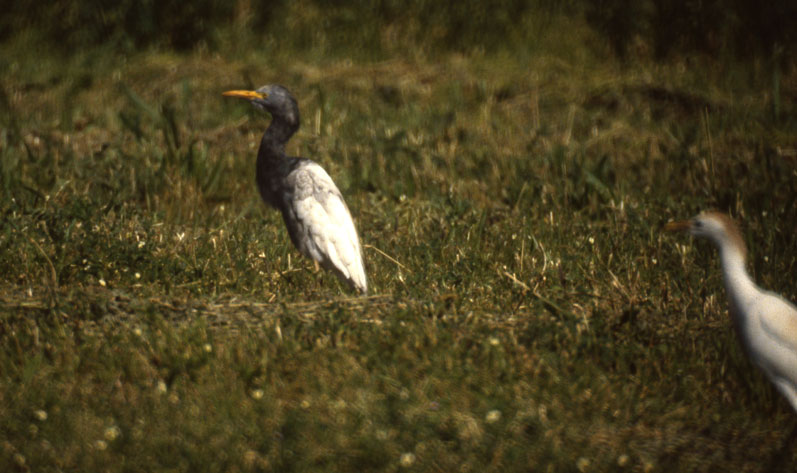 I ruled out the possibility of a hybrid, since it looked identical to the other Cattle Egrets in every respect except color. I ruled out the possibility of staining because the feathers seemed to be in excellent condition, dry and smooth. The contours of the bird, the sheen of the feathers' surface, the "loft" of the feathers, all appeared perfectly normal. Furthermore, it would be a very odd pattern of staining – dark on the neck, breast, and primary coverts, but white on the face and most of the wings. I was satisfied to call it a melanistic or dark morph Cattle Egret.
Over the years I've heard of several similar individuals. The species account in BNA mentions reports from South Africa, Florida, and Illinois (Telfair, 2006). A Google search reveals additional reports from Nigeria, India, Spain, Portugal, Morocco, Barbados, Dominica, Florida, and California (see references). Excellent photos of the Nigeria, Barbados and Dominica birds can be seen in links below.
Most often the color has been dismissed as "staining". Apparently Cattle Egrets are sometimes stained when crude oil or other chemicals are sprayed on crops such as citrus trees in Florida, and birders there report seeing oddly colored Cattle Egrets "a few each year" (Rich Paul, pers. comm.). These birds, however, are generally stained greenish or brownish, and also look disheveled. The matted feathers create gaps in the contours of the body and cause the bird to persistently preen the dark spots. I did not see any sign of that, and concluded that gray was the natural color of these feathers.
In the case of the Dominica bird, which was seen over a period of nearly three months, the color was darkest and most extensive when first seen, and was observed to "fade" over about three months. At least some of this fading could be the result of powder down, which turns blackish feathers to gray. ((Powder down is a specially modified feather that disintegrates into a talcum-like powder. A few families of birds have powder down, which is thought to be used along with oils for feather care.))
The Dominica bird and one of the Nigerian birds appear to be juveniles, but many of the others (seen in spring or summer) must be at least a year old, and the South  African bird appears to be an adult.
Arguments for staining (or for melanism)
Some feathers appear to be sticking together as if stained (but most feathers appear normal, dry and smooth)
The underside of the feathers appears paler (but this is a common natural pattern of feathers, and difficult to confirm, and one Dominica photo shows an entirely dark gray underside of the outer primary just like the upperside)
The feet appear to have some similar kind of grey coloration (but feet and bill could be affected by melanism just as the feathers are)
Some feathers of the Barbados bird appear dark tipped with a pale base as if each was protected from staining by an overlapping feather which has since been molted (but many species of birds show a similar color pattern naturally, and some of the wing coverts of the Barbados bird appear to be dark with pale tips)
The staining hypothesis seems to leave two major inconsistencies.
If this is staining, how can it account for the all-dark primaries shown by the Dominica bird? Those feathers should have been well-protected from any external source of color.
If this is staining, why is it seen in only a few Cattle Egrets, at widely scattered locations? Why not in clusters of multiple individuals or in other species such as egrets, White Ibis, etc?
Until one of these birds can be closely-studied, ideally in the hand, the true source of these dark feathers will remain a mystery, but for now my guess is that they represent a very rare melanistic morph of Cattle Egret.
[portfolio_slideshow]
References
Kempenaers, B., K. Delhey, and A. Peters. 2007. Cosmetic Coloration in Birds: Occurrence, Function, and Evolution. The American Naturalist 169, Avian Coloration and Color Vision, pp. S145-S158  http://www.jstor.org/stable/4125308
Pyle, P, and S. N. G. Howell. 2004. Ornamental Plume development and the "Prealternate molts" of herons and egrets. The Wilson Bulletin 116:287-292.  http://www.bioone.org/doi/abs/10.1676/04-012?journalCode=wils.1
Siegfried, W. R. 1971. Plumage and moult of the Cattle Egret. Ostrich suppl. 9:153-164.
Telfair II, Raymond C. 2006. Cattle Egret (Bubulcus ibis), The Birds of North America Online (A. Poole, Ed.). Ithaca: Cornell Lab of Ornithology; Retrieved from the Birds of North America Online: http://bna.birds.cornell.edu/bna/species/113
Other reports
Illinois
Peterjohn, B. G. 1987. Middlewestern prairie region (nesting season). Natl. Audubon Soc. Am. Birds 41:1440-1444.  http://elibrary.unm.edu/sora/NAB/v041n05/p01411-p01495.pdf
Lake Renwick, IL. summer 1987; one bird in small breeding colony "entirely gray with normal adult leg and bill color"
California
Imperial Valley, CA, Feb 2007.
Melanistic Cattle Egret – "A dark, off-color cattle egret has been foraging on the north lawn at Imperial Valley College for the past two afternoons."
Florida
Loxahatchee NWR, FL – http://bna.birds.cornell.edu/bna/species/113/galleries/photos/CLW_CAEG-FL_Loxahatchee-NWR (subscription required) very pale gray on body, unlike others.
South Africa
This is the darkest of the several birds photographed, presumably over the next few months this bird will fade to the smooth gray shown in other photos and will begin to replace these feathers with white ones? http://www.birdinfo.co.za/rarebirds/25_avian_colour_oddities.htm
Nigeria
two different individuals
http://www.flickr.com/photos/seth_of_rabi/2817072368/ – 31 Aug 2008 – apparently juvenile
http://www.flickr.com/photos/seth_of_rabi/3047832119/ – 21 Nov 2008
Barbados
Graeme Hall Swamp, Christ Church, Barbados, 19 September 2002
http://secrb.trinidadbirding.com/bacattleegret.html
Dominica
Aug 2009 – all blackish
discussion here http://www.birdforum.net/showthread.php?t=145867
photo here (registration required) http://www.birdforum.net/gallery/showphoto.php/photo/265831/limit/recent
3 Oct – white head and neck, paler gray body http://www.birdforum.net/gallery/showphoto.php/photo/273382/limit/recent
23 Oct – gray only on wings and tail http://www.birdforum.net/gallery/showphoto.php/photo/276539/limit/recent
same bird – note dark bill tip and dark legs
23 Oct 2009 Dominica
http://www.pbase.com/tmurray74/image/118815082
http://www.pbase.com/tmurray74/image/118815083
Spain
Herkenrath, P. 2002. Another melanistic Cattle Egret. British Birds. 95: 531 – 531.
Observation of a melanistic Cattle Egret in southern Spain on 2 May 1993.
Portugal
Scheres, W. 2002.  A partly melanistic Cattle Egret Bubulcus ibis. A Rocha Portugal Observatory Report 2002 15. http://www.arocha.org/pt-en/413-DSY/version/default/part/AttachmentData/data/pt-report-2002.pdf
With black head and neck, dark gray breast, other parts normal; seen several times Aug 2002 in a rookery at A Rocha, Portugal
Morocco
June 2007
http://www.valeryschollaert.com/index.php?option=com_joomlaboard&Itemid=175&func=view&id=417&catid=2
India
Willoughby, P. J. 2001. Melanistic Cattle Egret. British Birds, 94: 390 – 391.
An observation of a grey Cattle Egret [Bubulcus ibis] at Dona Paula, Goa, India, on 19 November 1995.