In a footnote here I mentioned that blackish feathers can appear gray because of powder down, and now I will offer a little more explanation.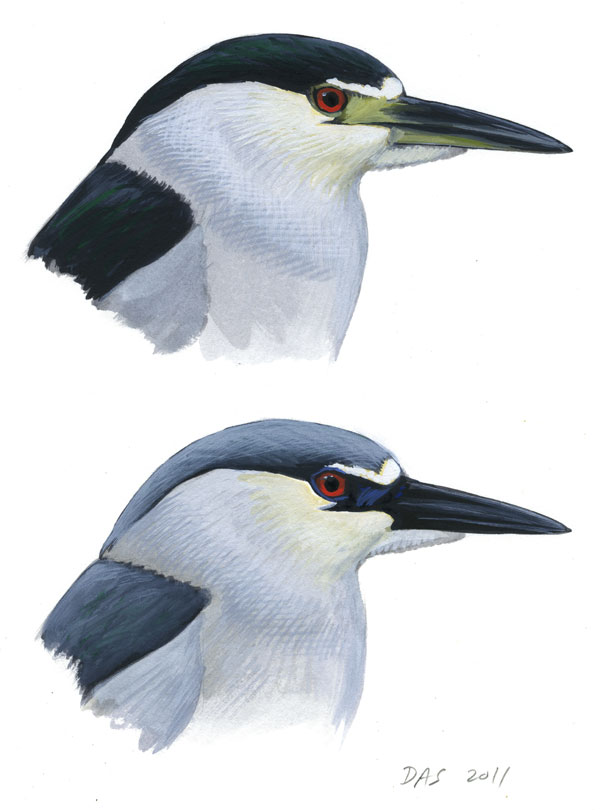 Powder down feathers are small, specialized downy feathers that grow continuously and are never molted. Their tips disintegrate into tiny particles of keratin forming a very fine powder somewhat like talcum powder. This powder is slightly oily, and adheres to the feathers. Only a few families of birds have powder down – herons, parrots, tinamous, and bustards – and it is thought that the powder helps with waterproofing and feather care, absorbing mud or other foreign substances on the feathers so that it is easier for the bird to preen away.
Powder down is usually whitish or yellowish (red in one species of bustard), and the effects of the powder can often be seen in a bird's plumage. The Palm Cockatoo (wikipedia) of Australia is reportedly a glossy black bird, but a thorough dusting with powder renders its plumage slate-gray. Mealy Parrot is another species that shows plumage obviously "frosted" with pale powder.  It is possible that the orange patches shown by Cattle Egrets in "breeding plumage" are at least partly the result of colored powder on those feathers. (Kempenaers et al., 2007)
Among North American birds, the Black-crowned Night-Heron offers one of the best opportunities to see the effects of powder down. The crown feathers are actually glossy black, but often look slate-gray, presumably because of an abundance of powder. It has been reported that the gray color is typical of breeding season birds (in Africa), implying either that the powder is produced more abundantly then or that the birds actively apply it to their crown at that season. My informal review of photos does not show a clear link to season in North American birds, but I first noticed a very gray crown on a nesting night-heron in Georgia just last year, so I suspect it is a breeding season feature here, as it is in Africa.
I'd be interested to hear more about this from anyone with more experience.
References
Kempenaers, B., K. Delhey, and A. Peters. 2007. Cosmetic Coloration in Birds: Occurrence, Function, and Evolution. The American Naturalist 169, Avian Coloration and Color Vision, pp. S145-S158   http://www.jstor.org/stable/4125308