UPDATE Feb 2021 – I'm taking a break from commissions, and will post here whenever they are available again.
An opportunity to own an original painting of your favorite bird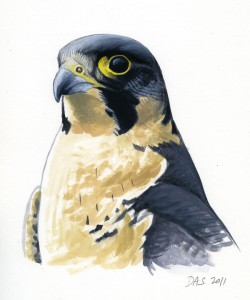 With a little spare time between book contracts, I have decided to take on a limited number of commissions for new paintings of birds. You choose the bird you like, and I will paint a portrait of it in gouache (opaque watercolor) similar to the example shown on this page. The price for a painting of this style and size is $800.
For more examples of my new paintings – some for sale and some already sold – as well as more information about the work, click here.
Contact me with any questions or to reserve a painting.
Click here for Info about payment methods and policies