As I work on the revision of my field guide I've been giving a lot of thought to how the book can assist the process of identification, and what information is most useful to a birder in the field. I've settled on the idea that there are two stages of bird identification, each one requiring a different mindset and different field marks. Most bird identification literature lumps them together, but I think it's helpful to understand the differences between those stages and how we use field marks in each one.
I'll call the two stages discovery and confirmation.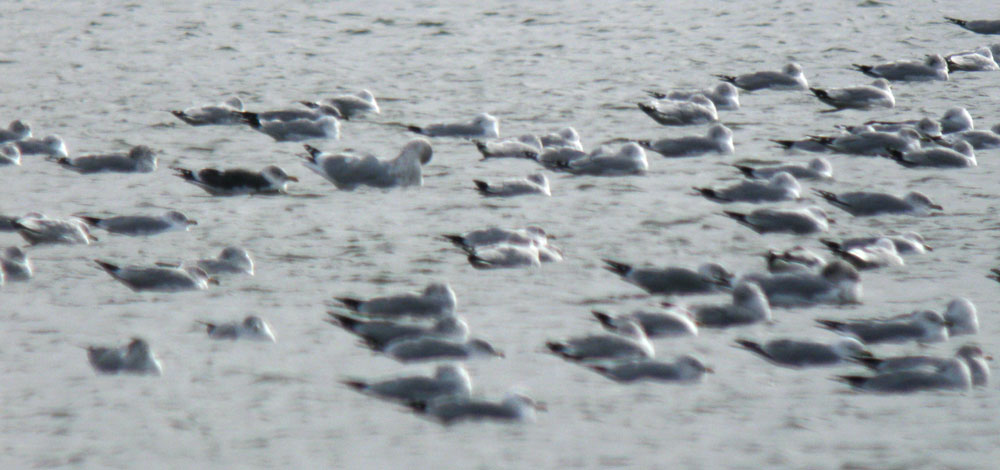 We're in discovery mode when scanning a flock or searching through a habitat looking for a certain species, or at the moment when a bird pops up in a bush and we say "Hey, is that a..?" Field marks useful for discovery are broad and generic, often average differences that can be seen at a great distance or assessed instantly to weed out the obvious non-candidates. Once a candidate is found we switch to confirmation mode and look for more objective details.
For example, when trying to discover a LeConte's Sparrow we don't have to see an orange face, we can just ignore the birds that look large, or dark brown overall, or long-tailed, and focus our attention on any small sparrow that looks sort of pale and buffy. Scanning a flock of gulls for a Lesser Black-backed we might be looking for a dark gray mantle to quickly narrow down the possibilities. Only after a Lesser Black-backed candidate has been discovered do we switch to confirmation mode and look more carefully for head streaking, relative darkness of the mantle, bill shape and color, head shape, leg color, wingtip pattern, etc. to eliminate other possibilities. Scanning the flock looking at bill color, head shape, etc on every bird would soon lead to confusion and despair. Those details are essential for confirmation but not very useful for discovery.
This is true even with "unmistakeable" species. For example, if we're scanning for Snowy Owl the best advice is to look for a football-sized white lump on the ground or on a mound or rooftop (not in a tree). But not all such lumps are Snowy Owls, so once a possibility has been located we have to look for the right shape, pattern, eye color, etc to confirm that it's a bird and a Snowy Owl.
Experienced birders often give helpful tips like "just look for a bird that's smaller and overall darker." That's very useful advice to help discover a candidate, and discovery is the essential first step in the identification process, of course, but really identifying the bird is another matter. ((An interesting aspect of this is that psychological research shows that as we gain expertise the moment of identification becomes simultaneous with the moment of discovery. As soon as we perceive that a bird is there, we know what it is. In that case, when an expert birder suggests looking for the "discovery" features, they are often able to make more finely-honed judgments, and assess other features and probabilities to arrive at an identification at the moment of discovery. What they are really saying then is "look for a bird that's smaller and darker overall, and if it's smaller and darker in just the right way, that's the bird". For less experienced birders, however, the more methodical confirmation step is required.))