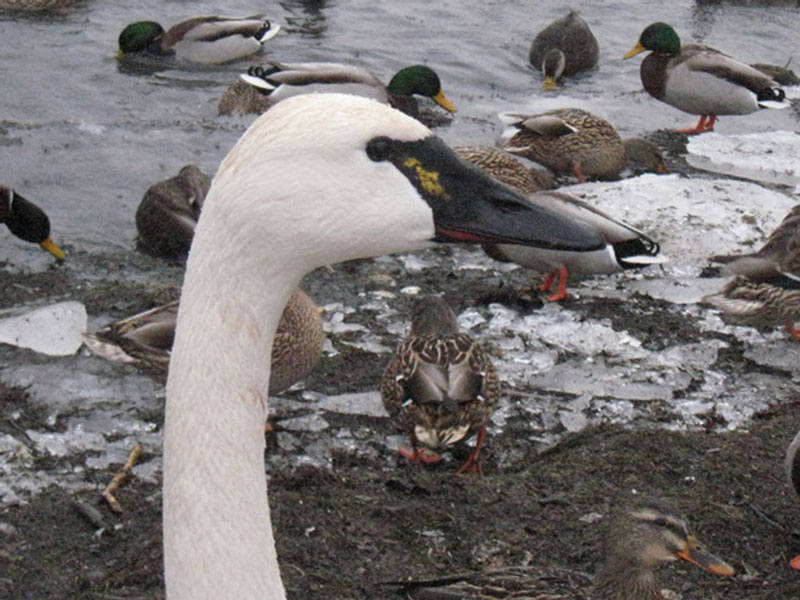 In a previous post I've talked about Trumpeter Swans with yellow bill spots as a source of  confusion with Tundra Swan. I speculated that the yellow spots might be showing because the birds are leucistic (lacking melanin). The responses to that post are worthy of a follow-up. Harry Lumsden, who has studied the reintroduced Trumpeter Swans of Ontario and knows them as individuals, says that yellow bill spots are rare but are shown by a small percentage of Ontario Trumpeters.
Leucistic swans do exist (Harry currently knows of three in Ontario) and can be recognized throughout their life by their pale yellowish legs. They show yellow and red patches on their bills until age two, some show yellow spots until age four, but otherwise their bills are all black like normal Trumpeters. Most of the swans showing yellow bill spots (like bird C24 shown in the photos here) have dark legs and are not leucistic.
Another interesting point is that this swan shows a rounded border of feathering on the forehead. This is typical of Tundra Swan, most Trumpeters have a more pointed extension of white feathers on the forehead. Harry Lumsden says this is another rare variation shown by some Ontario Trumpeter Swans.
Given the yellow bill spots and the rounded forehead feathering, it's no wonder birders have been confused by this individual. We might even start to consider the possibility of a hybrid, but Harry has watched this individual swan from hatching, he knows its parents and grandparents, and there is no question that it is a pure Trumpeter Swan. It's a good lesson in variation and the fallibility of field marks.