A pale and grayish female bluebird found in North Carolina recently (March 2012) provided a very interesting identification challenge. The plumage colors were a good match for a typical female Mountain Bluebird, and that is how it was first identified. North Carolina has only one previous report of Mountain Bluebird, so this bird received a lot of scrutiny. On closer inspection the color was not quite right for Mountain, and the shape seemed more like the expected Eastern Bluebird. A lengthy discussion on the ID-Frontiers listserve eventually came to a consensus of an abnormally colored Eastern Bluebird.
I agreed with the consensus, but it was mostly a subjective interpretation of shape and proportions, and I wanted to learn if the bird could be identified more objectively. I had a chance to check specimens at Harvard's MCZ, along with a lot of photographs on the internet, and found a few things that, I think, confirm the identification as Eastern Bluebird.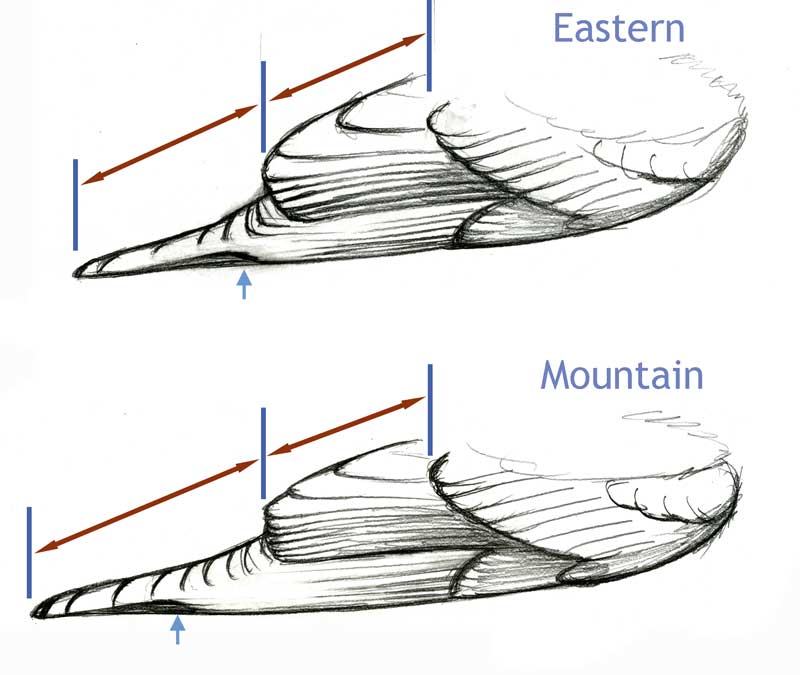 It has long been known that Mountain Bluebird has a longer primary projection than Eastern, with no overlap in measurements, but Eastern has a very long primary projection for a songbird, and the difference can be hard to judge. I found that comparing the length of the primary projection to the length of the folded secondaries beyond the scapulars and greater coverts made things easier. On Eastern Bluebird these two lengths are about equal, while on Mountain the primary projection is obviously longer than the secondaries.
In addition, the length of the exposed tail beyond the primary tips is quite different: about equal to the length of the primary projection on Eastern, but on Mountain the exposed tail is much shorter than the primary projection.
Both species have three emarginated primaries, easily visible in good photos on the lower edge of the folded wingtip. On Eastern these fall just beyond the tips of the tertials, and on Mountain they are about halfway between the tertial tips and the tips of the primaries.
Bill shape is also distinctly different, much thicker on Eastern, and Eastern has obvious yellow on the gape that is lacking or very inconspicuous on Mountain.
Head shape is variable depending on posture, but Eastern consistently has a high forehead and very rounded crown, while Mountain has a lower forehead sloping up to a peak on the rear crown.
In all of these features the North Carolina bluebird fits Eastern, and must be a female Eastern with pigment abnormalities, perhaps lacking the reddish brown melanin that would normally be responsible for the reddish breast and a lot of rich gray-brown colors on the wings and back.
Links
The best photos of the tricky North Carolina bluebird are here: http://www.carolinabirdclub.org/gallery/Derb_Carter/mobl.html
Details of North Carolina's previous report of Mountain Bluebird here: http://nature123.net/ncbirds/view.php?sort_order=3130
Discussion of this bird on ID-Frontiers begins here: http://listserv.arizona.edu/cgi-bin/wa?A2=ind1203C&L=BIRDWG01&P=R3338&I=-3
For more on melanin pigment deficiencies see my post here: https://www.sibleyguides.com/2011/08/abnormal-coloration-in-birds-melanin-reduction/