Backyard Bird Discoveries
While watching a small flock of juncos at my bird feeder on December 17, 2012, I noticed one particularly brownish female. Considering subspecies and watching it a little further I noticed that it seemed more active and alert, darting around quickly and holding its body more upright than the other juncos. Could this be a regional difference? Maybe some western Juncos have a previously unnoticed tendency to stand more upright? Unlikely, but worth watching more to figure out what was going on.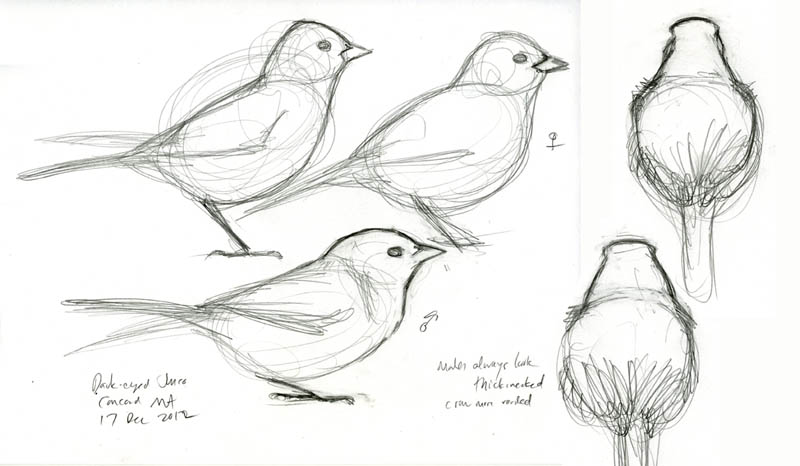 That one bird really did stand out in posture and behavior among the three or four juncos on the ground, but I realized that the others were all males. Soon another female appeared, and while it wasn't quite as obvious as the first one, the two females still shared more posture and behavior in common with each other than they did with the males.
Watching and sketching for the next hour or so revealed consistent and fairly obvious differences. I could watch a bird with my naked eye, guess the sex, and then check plumage through the binoculars, and it worked!
A big factor is that males are generally the dominant birds. They tend to sit still and defend one spot as they feed, and will chase away a female that gets too close. The males spend a lot of time in the center of the feeding area and in a "macho" posture, crouching and looking aggressively around, while the females are flitting nervously around at the edges, alert and always ready to fly when challenged.
Besides the females' more upright posture, more active behavior, and lower rank in the pecking order, I also noticed that they seemed to have thinner necks and a very slight crest.
The more I watched and sketched the more obvious this seemed. The males have a "ruff" of feathers on the back of the neck, smoothing the contour of the crown into the back, and looking particularly broad and "swarthy" from behind. This is enhanced by their crouching posture, but did not seem to be solely caused by that. The neck of the females is more normally proportioned, with a subtle constriction between head and body, appearing narrow when viewed from behind and leaving a sharp corner (a slight crest) on the rear crown.
In summary:
Females tend to stand more upright, with head held high and body higher above the ground
Females have thinner neck, lacking the male's bulging neck feathers
Females tend to show a very slight crest, while males' head profile is more rounded
Females are lower on the pecking order and are often chased by males, leading to more active and fidgety movements
This is based on just an hour of observation and about a dozen birds in one situation, but it has worked just as well here on subsequent days. It may not work so well under other circumstances, or in a different flock. There may be situations where some females are higher-ranking socially, and that would negate a lot of the behavioral differences. I will be watching for these differences in the future, and would be interested to hear of anyone else's experience with it.
Video
I took a few minutes of video, which is very poor quality due to the low light and snowfall, but is still helpful to show the differences described above.