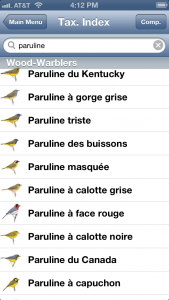 The Sibley eGuide to Birds app for iPhone has been updated.
This update adds thumbnail images of every species in the scrolling list and in search results, the option to display common names in French, Spanish, or Latin instead of English, the latest AOU taxonomy including splits of Scripps's and Guadalupe Murrelet, new audio for Bendire's Thrasher and Cackling Goose, and some minor corrections.
Similar features for Android and other platforms coming soon.