Can you identify the two birds in this photo?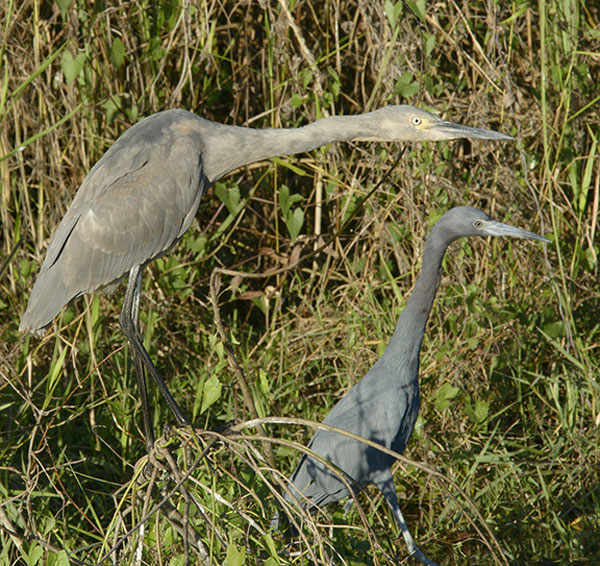 It should be immediately obvious that this photo shows two species of dark herons, and their overall slender shape and uniform grayish color, with no distinct markings on head or neck, reduces the options to two: Little Blue Heron and Reddish Egret.
It is rare to see these two species side-by-side, so we rarely get to appreciate the much larger size of Reddish Egret. This kind of grassy freshwater pool is normal habitat for Little Blue Heron, but Reddish Egret is almost always found on expansive shallow saltwater lagoons.
It's also a great opportunity to compare the differences in overall color, as well as details of the color of bill, lores, eye, legs, etc.
This is an immature Reddish Egret, less than a year old, based on its lack of plumes, drab grayish color overall and slightly paler and brownish tips on all of the wing coverts. Compared to an adult Little Blue Heron the immature Reddish Egret's paler ashy-gray and mottled color is easily distinguishable. An adult Reddish Egret would be even more distinctive in color, with clean gray body and shaggy reddish neck.