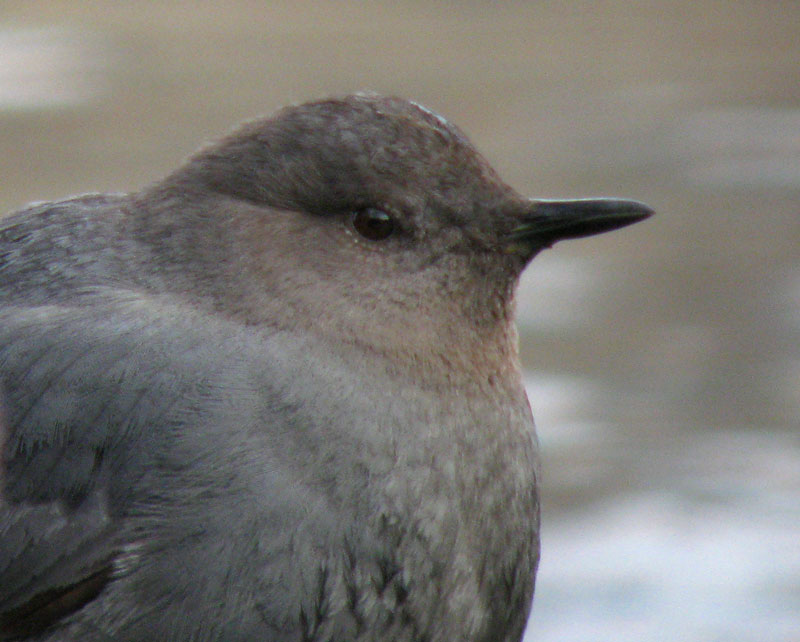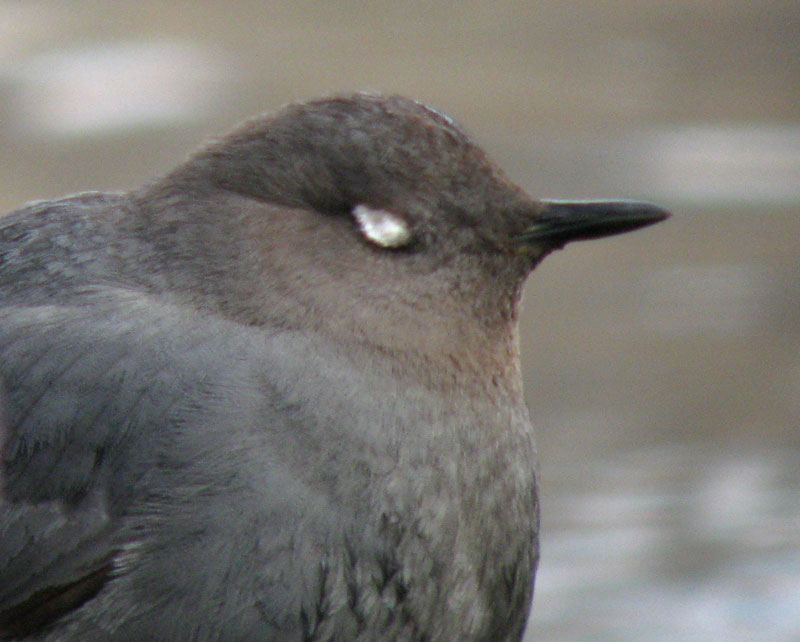 It's one of the first things people notice when they get a good look at a Dipper – the eyelid flashes white when it blinks! This is so different from any other bird that it begs for an explanation. Understandably, many people assume that the flashing white eyelid must have something to do with the dipper's unusual underwater habits, related to helping them see underwater, which leads to the common misconception that the white flash is a nictitating membrane.
All birds have a nictitating membrane, a translucent whitish/bluish "third eyelid" that flicks across the surface of the eye from front to back to protect it while still allowing some vision (more info on Wikipedia).
But the dipper's flash is bright white, and travels from top to bottom and back up (and if you can examine it very closely you'll see that it's covered with tiny white feathers). It is the eyelid.
Because the eyelid is white, we notice every time a dipper blinks. They don't blink a lot more than other birds, it's just that most other birds have dark grayish eyelids without feathers, and blink more quickly, so their blinking is barely noticeable.
The next question is… Why? Why do dippers have white eyelids and then make a big show of blinking slowly? Nobody knows.
One idea that's been proposed is that it's a useful way of communicating with other dippers in the very noisy streamside environment, but that's just a general idea about visual communication and doesn't get any closer to explaining what dippers are trying to say with their eyelids. Even the authoritative BNA account by Willson and Kingery offers no explanation.
Maybe the dippers we see – blinking as they pop in and out of the water – are just blinking, and the white eyelid has some other specialized function at another time in their life. It's a basic question about a relatively common and easy-to-see bird, and it could be answered by just observing and getting to know some dippers. And that seems like it would be a pretty nice way to spend a few months.
References
Willson, Mary F. and Hugh E. Kingery. 2011. American Dipper (Cinclus mexicanus), The Birds of North America Online (A. Poole, Ed.). Ithaca: Cornell Lab of Ornithology; Retrieved from the Birds of North America Online: [subscription required] http://bna.birds.cornell.edu/bna/species/229