Cackling Goose is a rare fall migrant through Massachusetts and I usually see a couple of them each fall among the hundreds of Canada Geese around Concord. I look forward to the challenge of sorting through the flocks and picking these birds out, and once a candidate is located the identification has usually been straightforward – until 2014.
To begin the discussion and establish a baseline, here is a typical Cackling Goose with a typical Canada Goose: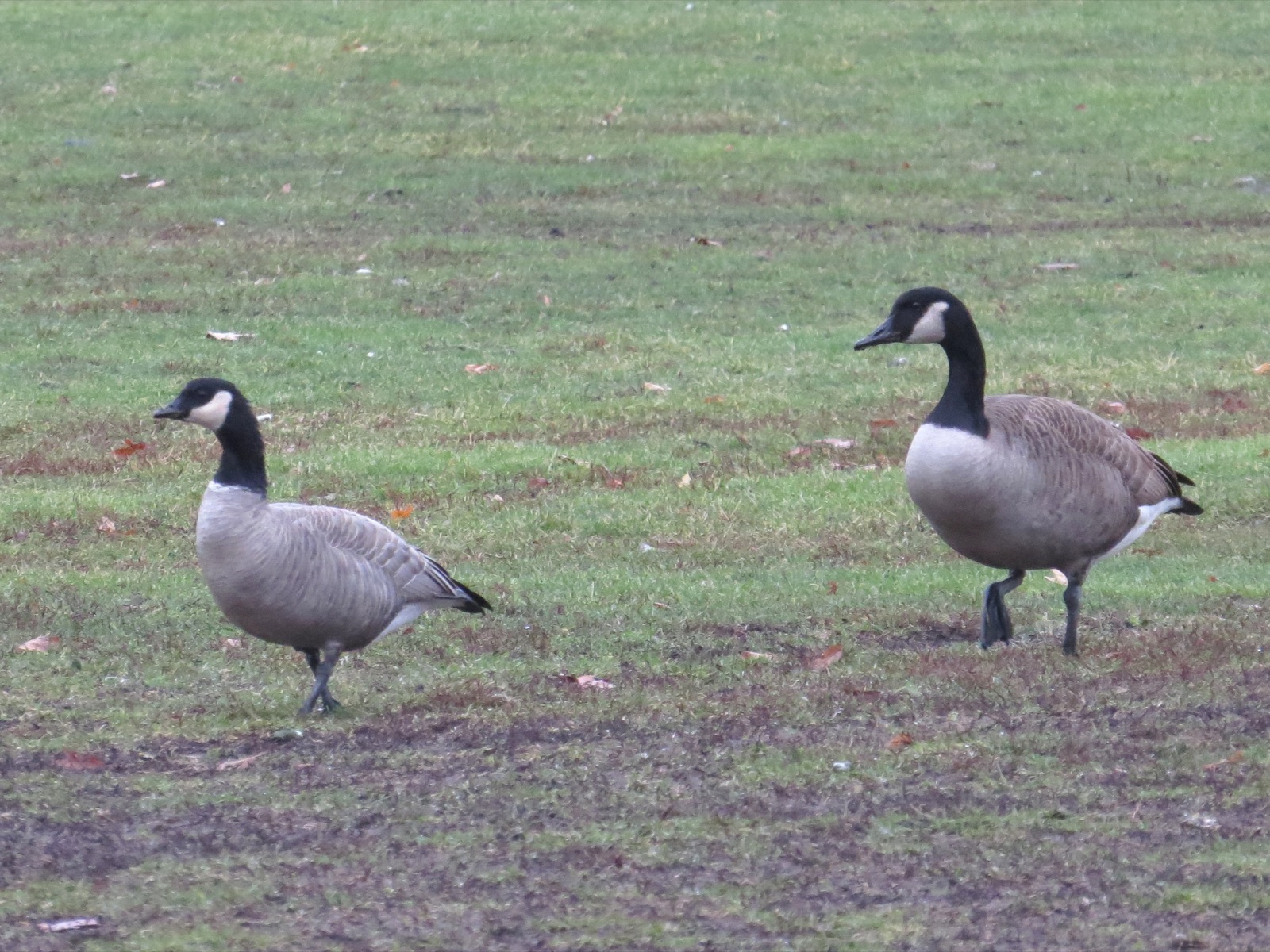 In Massachusetts there are two distinct subspecies groups of Canada Goose: the breeding population (the "nuisance" geese of the suburbs) present year-round except during heavy snow cover, and northern migrants which arrive mostly in October. Learning to recognize these two forms helps with understanding the variation in Canada Goose.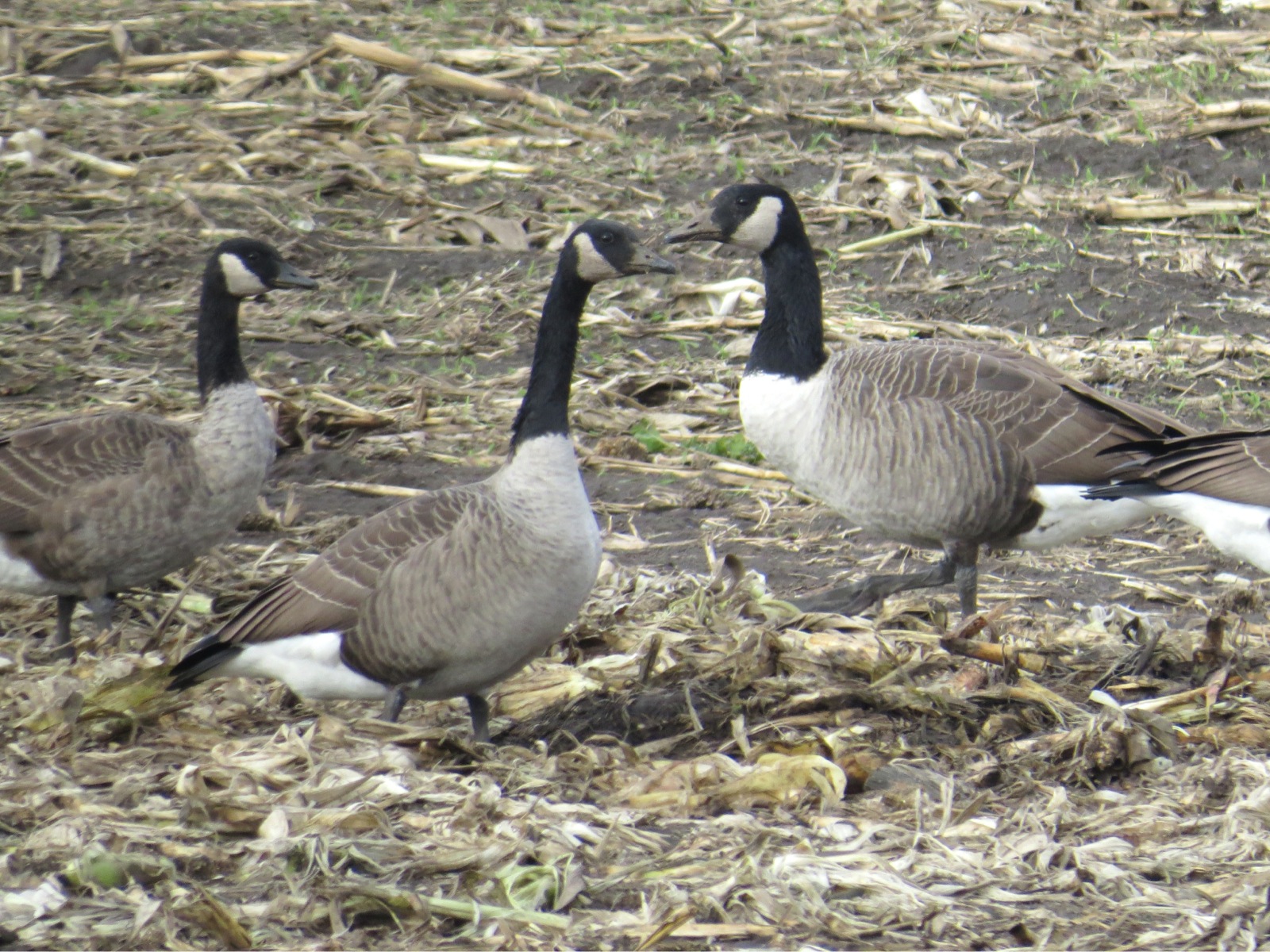 In the photo above the larger goose on the right shows features of the mostly resident suburban Atlantic coast population (mixed subspecies moffitti and maxima) and the two birds on the left show features of migrants from the northern Quebec/Labrador breeding populations (subspecies canadensis or interior). The smaller size of the migrants can be obvious, as it is here, but there is plenty of overlap. Also note their dingier gray-brown breast color, and the fact that the far left bird is still in mostly juvenal plumage in November. Local residents molt out of juvenal plumage in September.
On November 5, 2014, I went out to browse the local geese, and I ran into this group: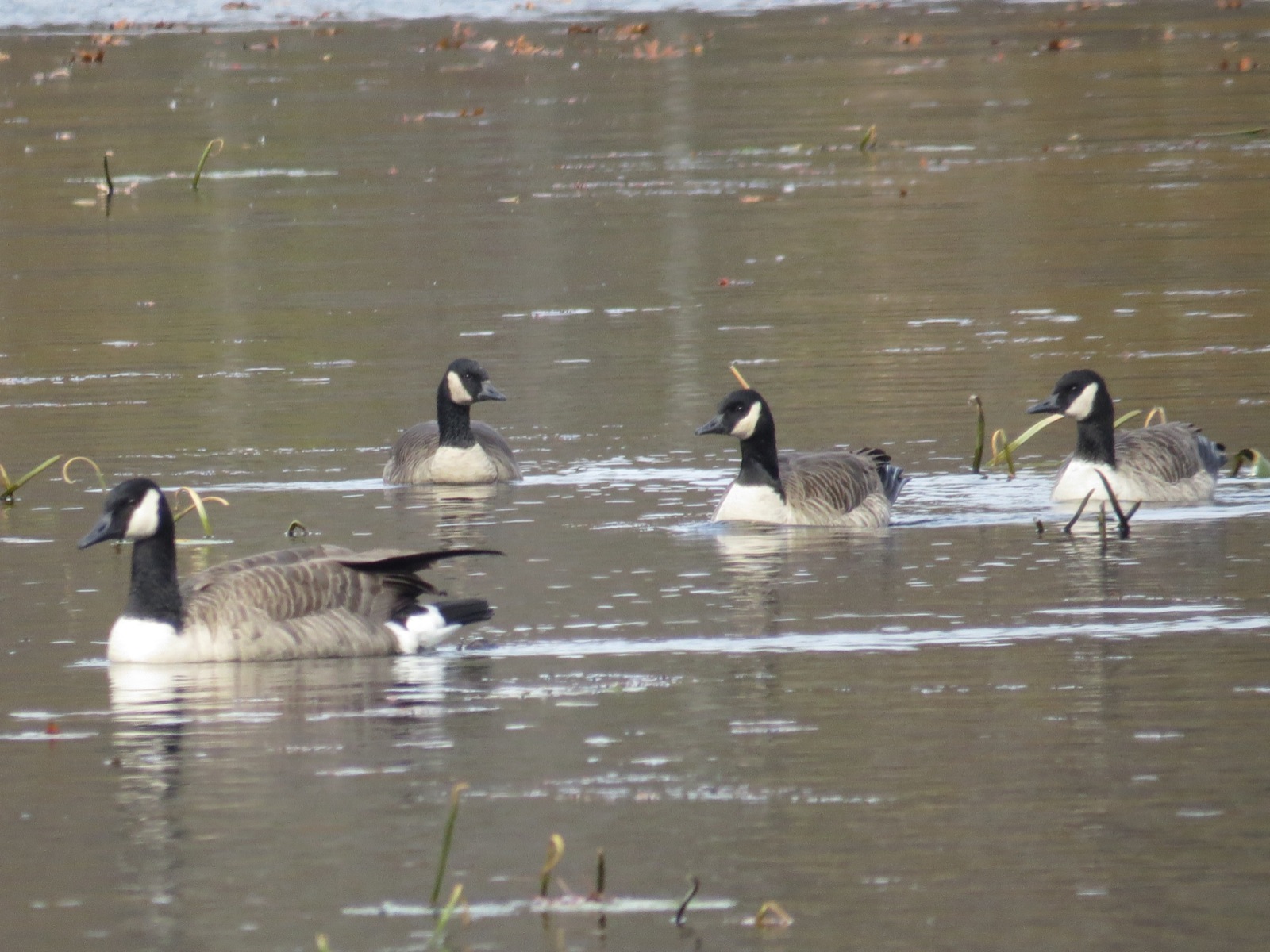 One of the nice things about goose flocks is that geese maintain strong social relationships and birds tend to cluster in stable "subflocks". Sometimes these are family groups, sometimes all adults, but I take it as a strong indication that the clustered birds share a common geographic (if not familial) origin. This can be very helpful for identification as it allows a sort of "average" impression of a whole group, which helps to cut through some of the extensive individual variation.
In this case the three smaller birds were staying together as a group, so I was trying to fit them all into the same species, either Cackling Goose or Canada Goose, not a mix.
Here is a close-up of two of the smaller geese.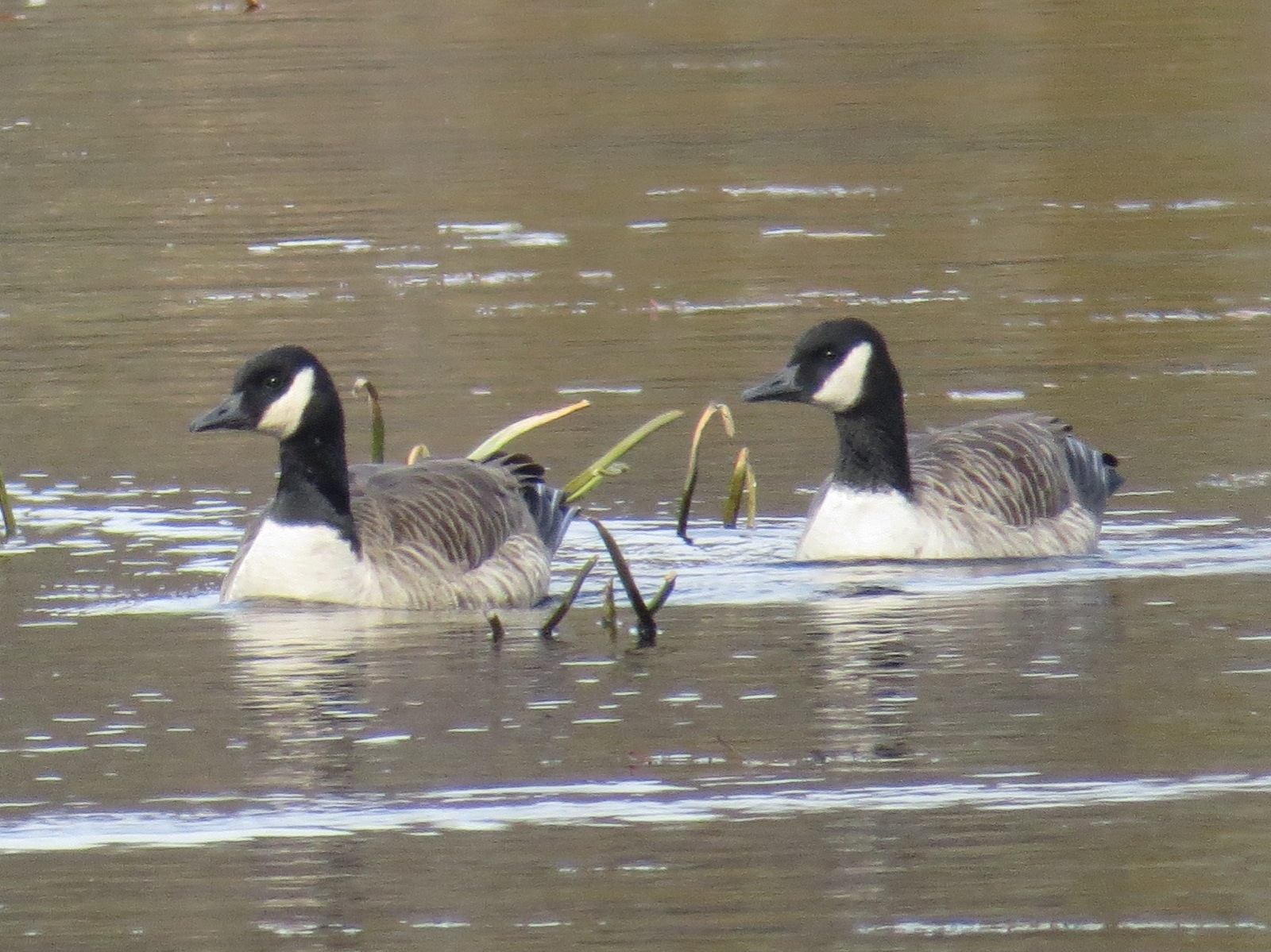 I can't call these Cackling Geese; they are just a little too long-billed proportionally. On the other hand, I can't call them Canada Geese either because even the right-hand bird is too small and dainty for any of the usual Canada Geese in Massachusetts.
Over the next few days I found at least three satisfactory Cackling Geese, but it became clear that there was a large group of at least 80 birds, all staying more or less together, that were a variable mix of intermediate sizes and colors.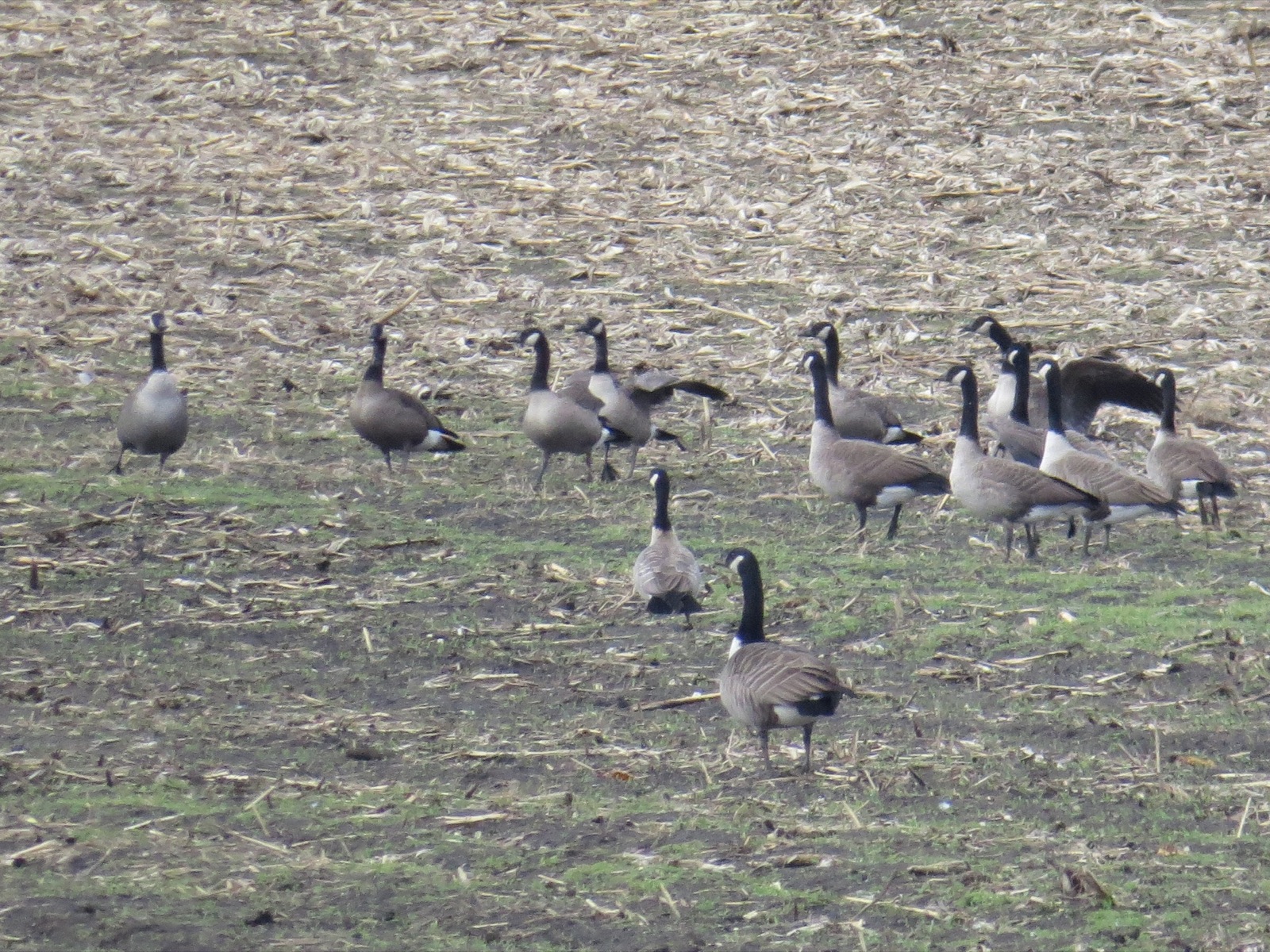 Behind the Canada Goose and Cackling Goose in the foreground of the photo above, the cluster of geese on the right could be normal northern migrants, although they seem just a bit small for that. The four on the left, a family group, are distinctly smaller than any of the usual Canada Geese in Massachusetts, and the darkest juvenile (second from left) is unusually dark.
Here are some other photos of confusing individuals and family groups in this flock seen over the next few days: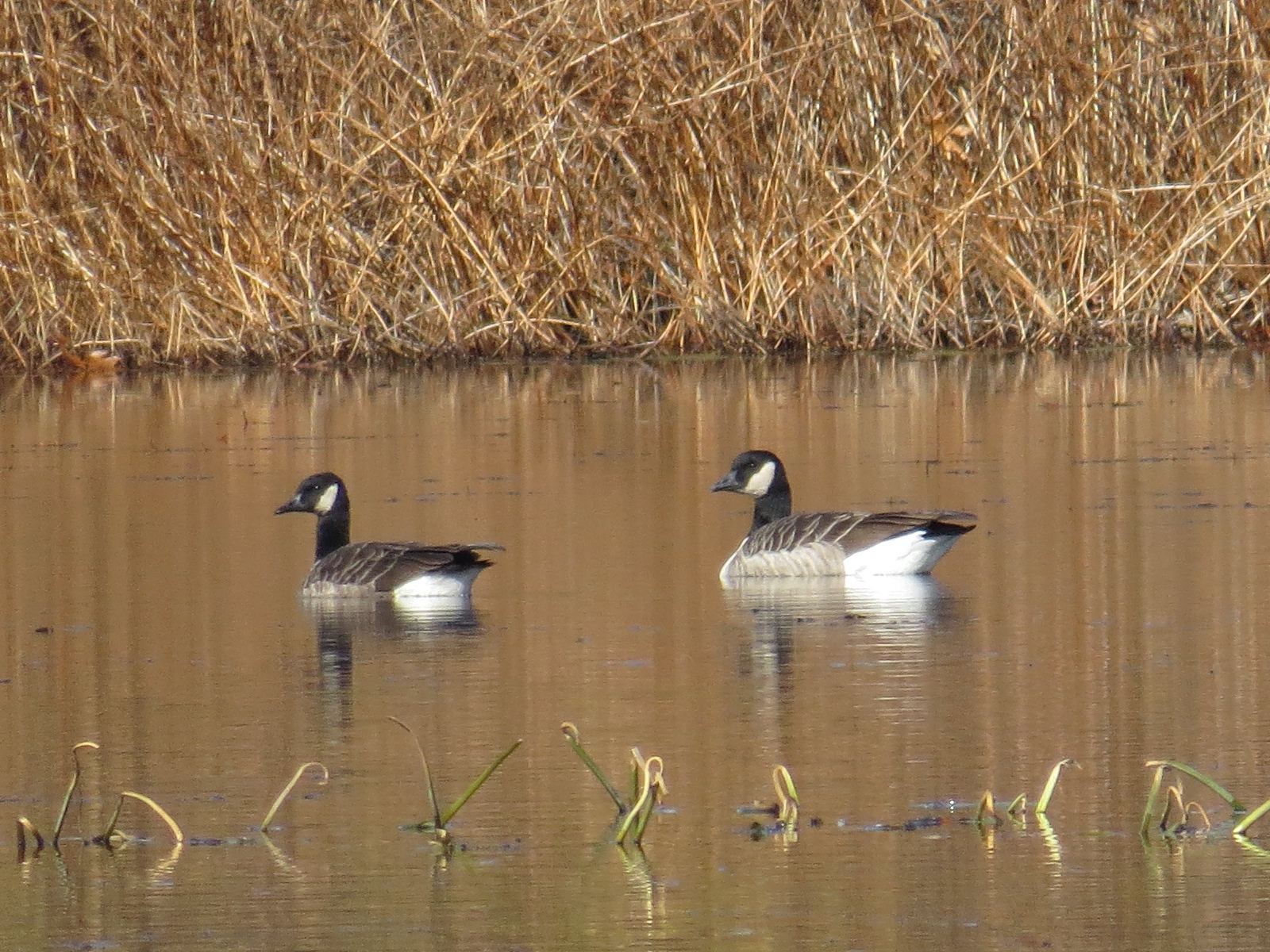 These two (adult male on the right and juvenile on the left) are part of a family group of 7 (also shown in the next photo) that were all confusingly close to Cackling Goose but not quite right. The adult male (on the right, above, and back center, below) had a relatively large body but short and stout bill. The adult female was longer-billed while the juveniles, although small-billed and small overall, had more Canada-like bill shape.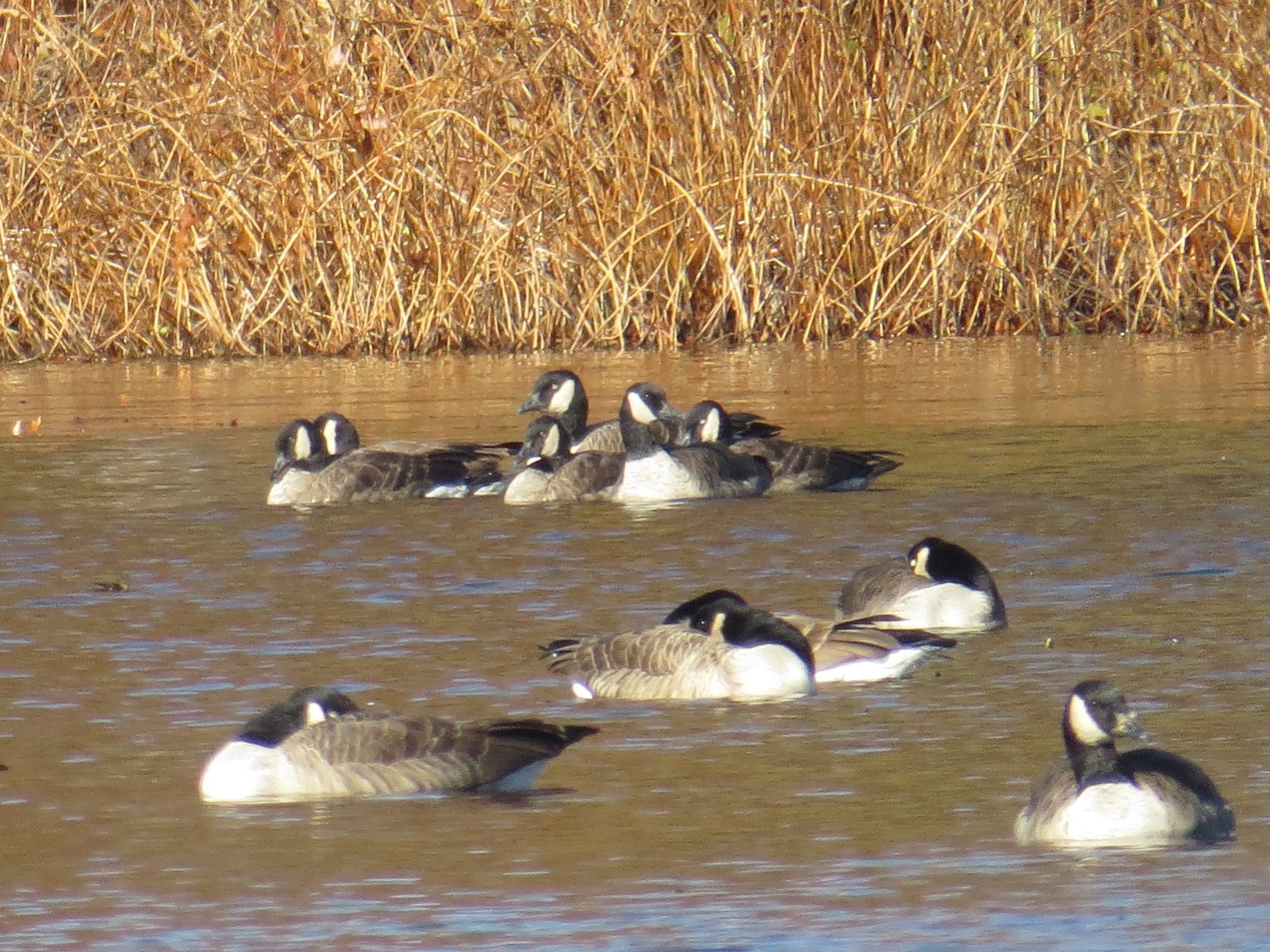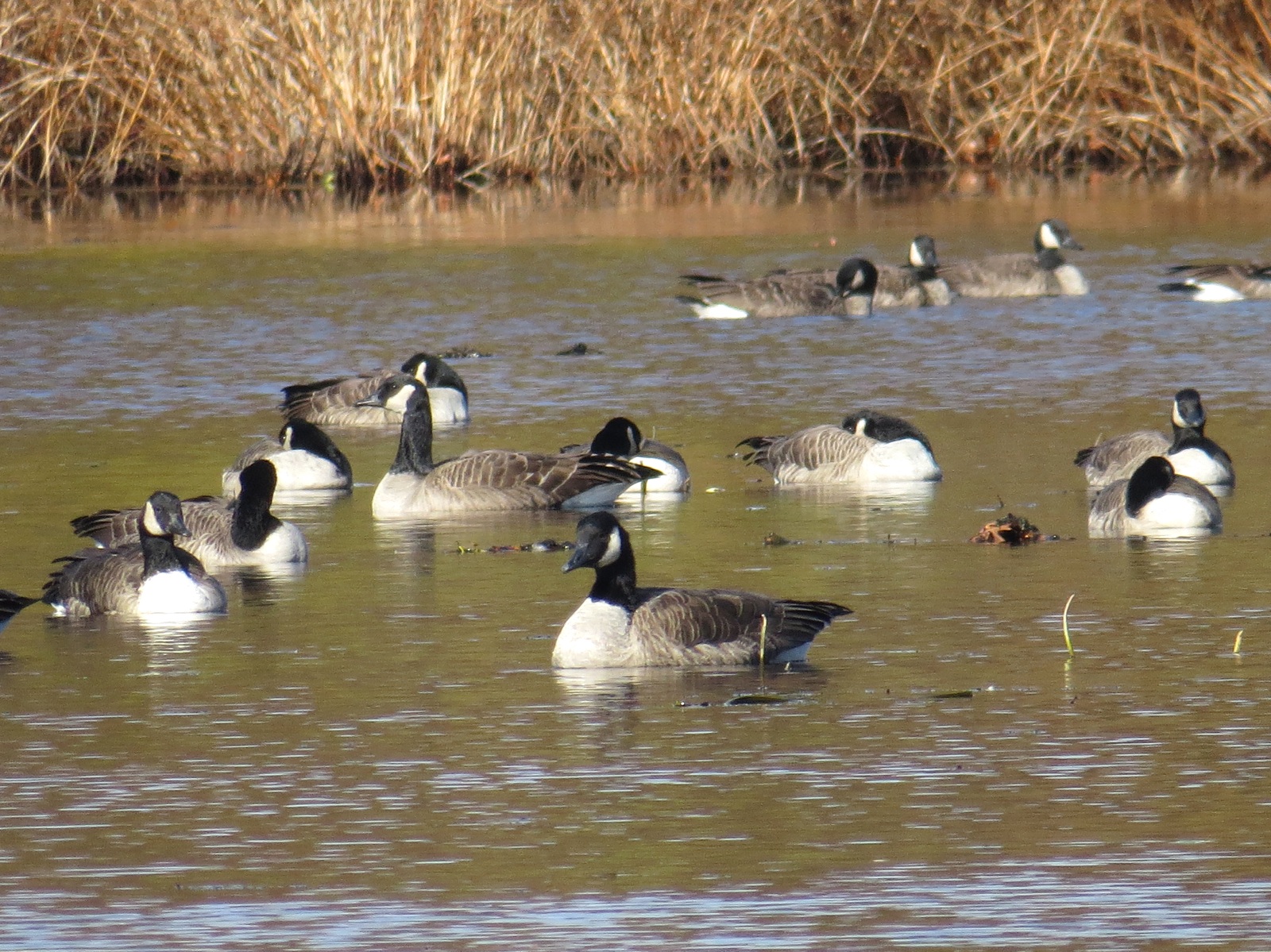 In the photo above, the alert bird at left center looks small and small-billed, outside the range of the typical Massachusetts Canada Geese. The other swimming birds to varying degrees show paler silvery back color, small size, and short necks suggesting Cackling, in contrast to the single typical Canada Goose in the foreground. The group out of focus at the back right is the same family group featured in the previous two photos.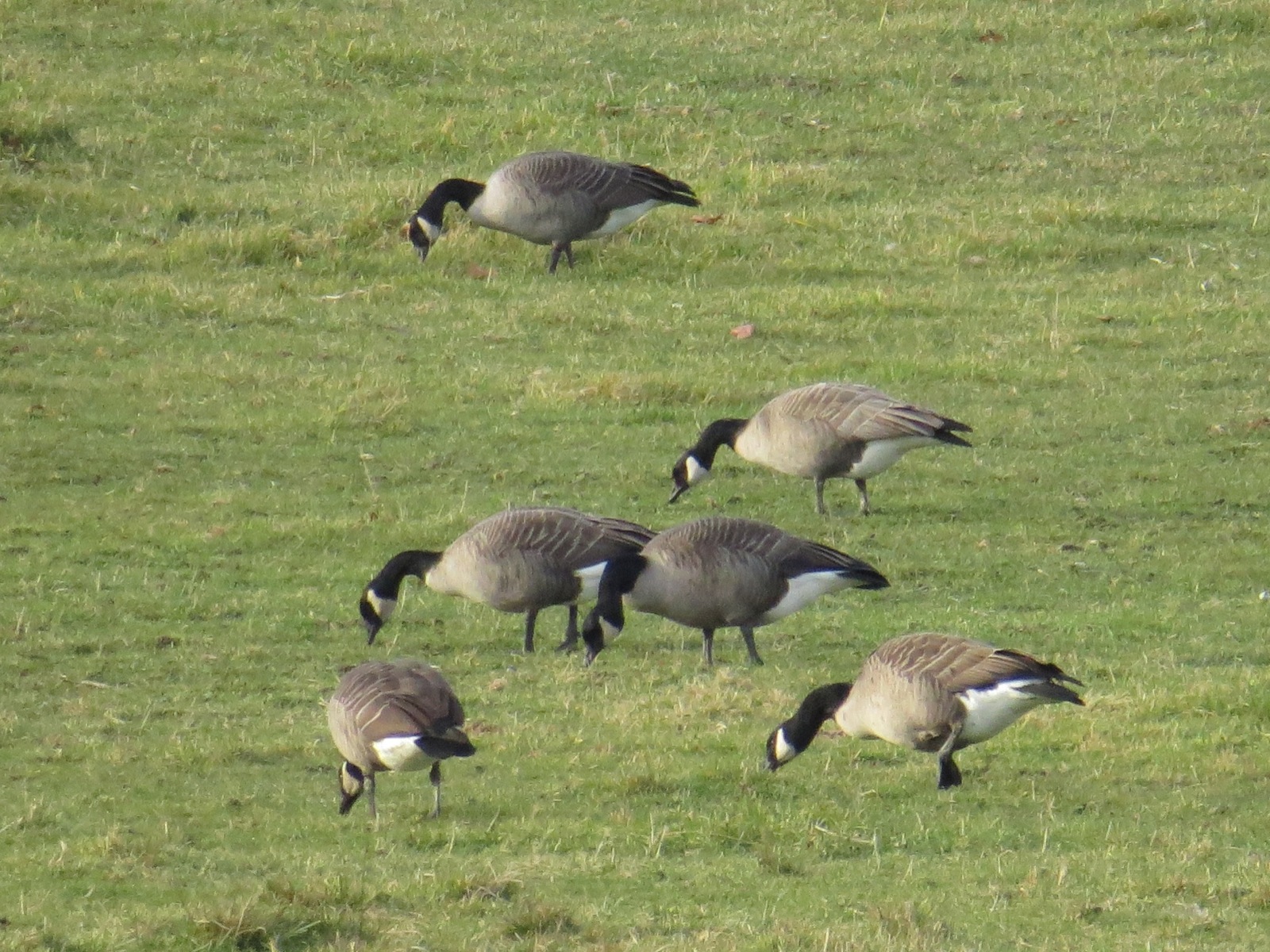 During the week or so that this flock was around I found them on most days and spent hours studying them. I waffled between wanting to claim as many as 50 Cackling Geese (unheard of in the Atlantic states), or just calling them all Canadas. Officially I felt comfortable reporting at least three different Cackling Geese, but unofficially I couldn't figure out what to do with the ten or twenty other birds that were "near-Cackling", and those blended with a few dozen others that were slightly larger, and so on.
One obvious possibility is that these birds represent the smaller subspecies of Canada Goose – B. c. parvipes or Lesser Canada Goose. Conventional wisdom says this subspecies nests across northwestern Canada but recent genetic evidence refutes that, and suggests that small Canada Geese may occur only in Alaska (Leafloor et al, 2013), and in Alaska the situation is very murky. Given that, the chance of a whole flock of Lessers showing up in eastern Massachusetts is vanishingly small. And to claim a flock of Lessers in Massachusetts I would want them to be a more uniform and discrete flock of medium-size birds, unlike the mixed flock that I saw, which ranged from Cackling-size to Canada-size in one loosely-associated group.
I hesitate to suggest it, but I think the evidence points to the possibility of this being a mixed flock of hybrids and backcrosses. Hybridization between Cackling and Canada Goose has been documented on the western shore of Hudson Bay (Leafloor et al, 2013) and there's no reason to think it's limited to that area. Farther east Cackling and Canada Geese meet on the breeding grounds in northern Quebec, Baffin Island, and Greenland – all normal sources for Massachusetts geese.
I've seen the occasional confusing individual goose in the past, but never a large group like this. Maybe I've overlooked them, or maybe several small groups just happened to converge on Concord, but it's possible that the large numbers I noticed this fall are a new phenomenon. With climate change there have been big shifts recently in the distribution and numbers of nesting geese in that region, which could lead to other changes.
This is all just a working hypothesis, based on lots of suppositions and with lots of unanswered questions. Regardless of the answers, it's clear that identifying Cackling Goose is not as straightforward as I thought, and goose-watching will be more challenging and more interesting because of that.
References
Leafloor, J.O., J.A. Moore & K.T. Scribner. 2013. A hybrid zone between Canada Geese (Branta canadensis) and Cackling Geese (B. hutchinsii). Auk 130: 487-500.  abstract