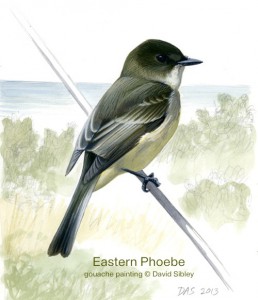 Lots of birds have a habit of pumping (or wagging) their tails. It's mostly open-country birds like phoebes, wagtails and pipits, Palm Warbler, Spotted Sandpiper, and others. Many hypotheses have been suggested to explain why the birds do it, but nobody came up with an answer until Gregory Avellis in 2011.
He studied Black Phoebes in California, and tested four different hypotheses to see if tail pumping was related to:
balance – but tail pumping rate did not change depending on where the phoebes perched
territorial agression – playback of Black Phoebe song caused a territorial reaction but did not change the rate of tail pumping
foraging – tail pumping did not change significantly whether the birds were foraging or not
predators – playback of the calls of a potential predator – Cooper's Hawk – caused tail pumping rate to triple
Avellis concludes that tail pumping is a signal meant to send a message to the predator. It tells the predator that the phoebe has seen it, and therefore the phoebe is not worth pursuing.
Avellis, G. F. 2011. Tail Pumping by the Black Phoebe. The Wilson Journal of Ornithology 123: 766-771. abstract