This recording includes one song of Cerulean Warbler and one of Black-throated Blue Warbler. Can you tell them apart?
Distinguishing Black-throated Blue Warbler and Cerulean Warbler by song is usually not too difficult, even though both have buzzy songs with a more or less rising trend. The typical songs of both species are distinctive, and are usually compared to other species, not to each other; e.g. Black-throated Blue Warbler is usually compared to Prairie Warbler or Northern Parula, and Cerulean Warbler to Northern Parula.
A local variation of Black-throated Blue Warbler, however, is extremely similar to the typical song of Cerulean Warbler. This variant is common in birds breeding across southern New England: from Connecticut north to Vermont and east to Maine. It can be heard from spring migrants south of those areas as well.
Cerulean Warbler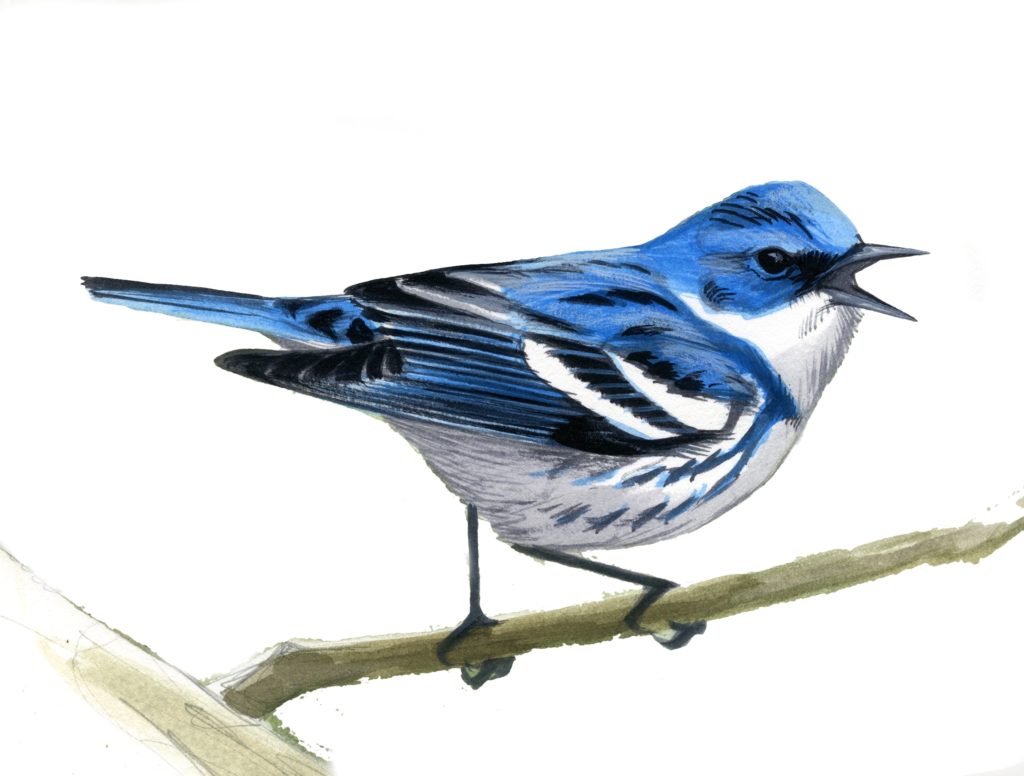 zeerrdl zeerrdl zrrid-zrrid-zrrid-zrrid-zrreeee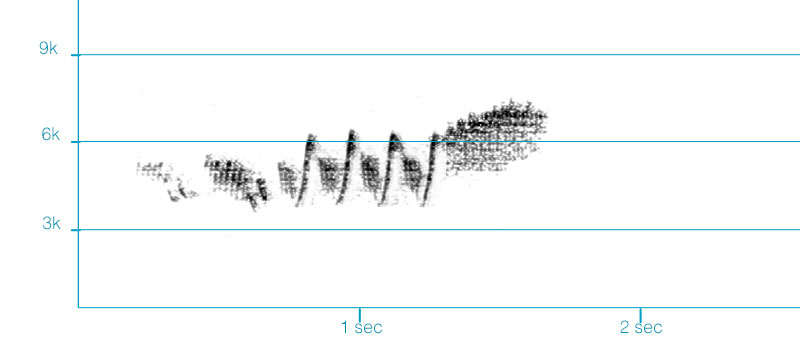 introductory phrases coarse, buzzy, strongly downslurred, shorter and more complex: zeerrdl
middle phrases more complex with coarse buzzy elements: zeerre-zeerre-zeerre
final buzz coarser
Black-throated Blue Warbler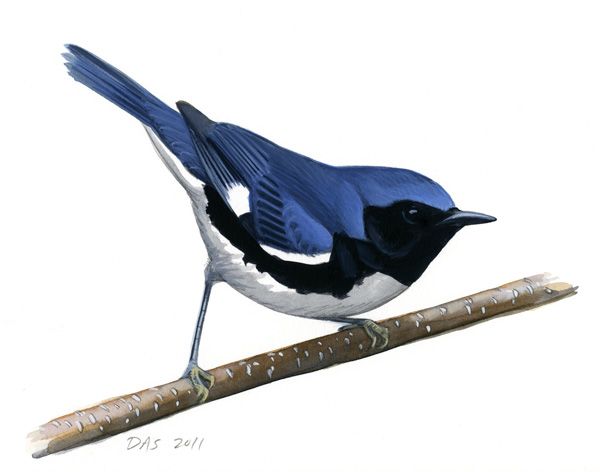 seeooo seeooo zeed-zeed-zeed-zeed-zeeeeee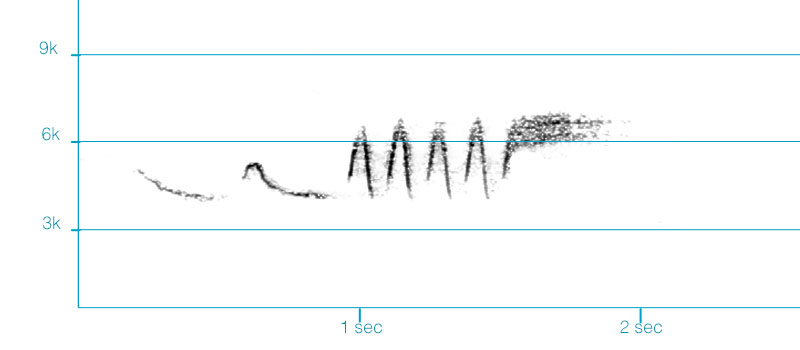 introductory phrases clearer, less buzzy, less downslurred, longer and simpler: seeooo
middle phrases simpler, clearer, finely buzzy: zeed-zeed-zeed
final buzz very fine
The single best way to distinguish these two songs is by details of the introductory phrases. In Cerulean Warbler the first two phrases are buzzy and complex – each phrase comprised of multiple elements. In Black-throated Blue Warbler the first two phrases are closer to whistled in quality, not buzzy, and are simpler – just a single slurred note.
Distribution of the Cerulean-like song variant
This variant of Black-throated Blue Warbler song is commonly heard from territorial birds in southern New England, from northern Connecticut north to central Vermont and New Hampshire, and parts of southwestern Maine. Reviewing recordings in the online collections at Xeno Canto and the Macauley Library, I've created a rough outline of the area (below). There are also recordings of this song type well south of there, presumably from migrants headed for New England (e.g. one in Pennsylvania in mid-May https://ebird.org/checklist/S29710626 ).
This map is based on a relatively small number of records, and will undoubtedly be refined as more information comes in. It is unknown what percentage of birds within this region use the Cerulean-like song variant. Any observations of Black-throated Blue Warbler songs in and around the area will be helpful.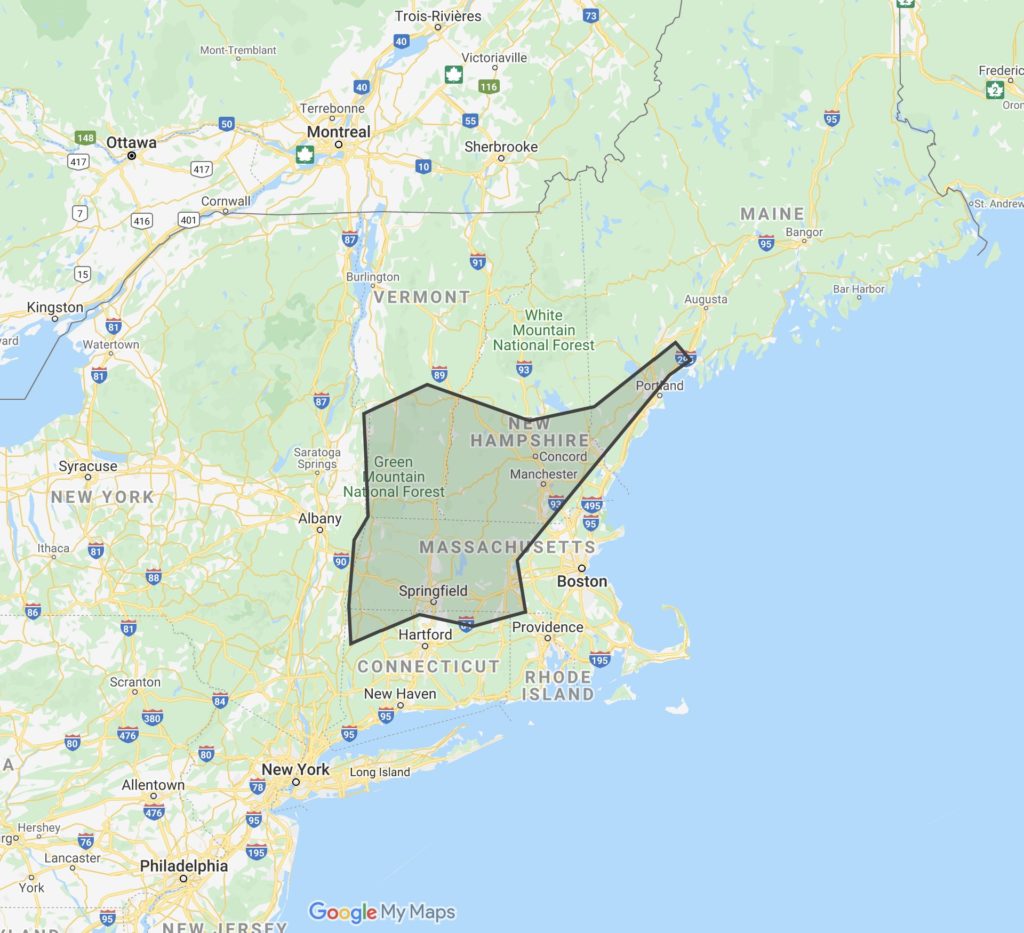 Song categories in warblers
The Cerulean-like variant of Black-throated Blue Warbler is presumably a first-category song. In this species each individual male typically has only one first-category song in its repertoire, and one to six second-category songs.
Males of most wood warblers sing two different song types in different contexts. These have been confusingly named in different studies over the years. Here I will follow the terminology used by Pieplow 2017:
First-category songs – used mainly in less confrontational settings in the presence of a mate or by unpaired males trying to attract a mate, these songs predominate early in the breeding season
Second-category songs – used in more confrontational settings such as territorial disputes with neighboring males, given throughout the nesting season
In Cerulean Warbler each male has a repertoire of two or three slightly different songs, and uses one song in first-category contexts and the other one or two in second-category contexts. But there is no difference between first- and second-category songs other than their usage by an individual male.
In Black-throated Blue Warbler the two categories are distinct. First-category songs are a fairly rapid series of less buzzy phrases. Second-category songs are always buzzy, with the harsh, drawling quality characteristic of this species, e.g. zheew zheew zhreee.
In northern Vermont, Hof (2014) found that the slower, buzzy second-category songs outnumber faster, clearer first-category songs by two to four times. Where I hear them, however, in Deerfield, MA, the Cerulean-like variant (first-category) seems to be the most common song throughout the summer. It's possible that at the lower densities here there are fewer territorial disputes, and birds sing mainly for their mates using first-category songs. The slower, harsher second-category songs should be expected throughout the species' range. In mapping the distribution and frequency of this song variant it will be important to distinguish between each bird's first- and second-category songs, and perhaps to take into account other factors that can influence the frequency of first-category singing.
References