One of the great pleasures of birding is that you can run into something new and unexpected anytime, anywhere. This summer (June and July 2020) I've been birding around my local neighborhood in Deerfield, MA, and even though I've lived here for three years now, every day still brings new discoveries. A recent morning produced a dramatic moment: a Scarlet Tanager unlike any I've seen before.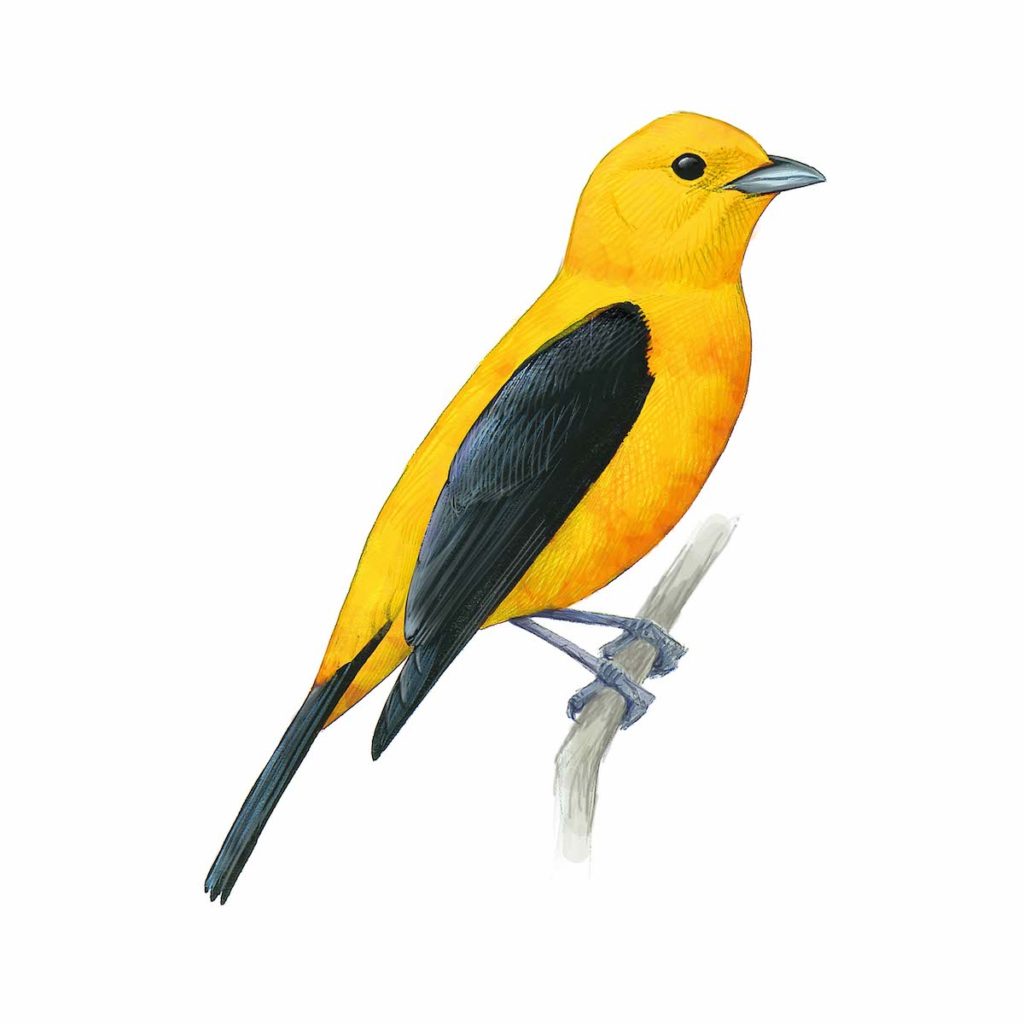 Scarlet Tanagers are fairly common here and I see one or more males almost every day, perching in the treetops and singing. Their glowing red body and black wings are instantly recognizable and always a treat to see.
On June 19th I was looking across a field when a bright yellow-orange bird flew into the trees along the edge. My first thought was "Baltimore Oriole" (an even more frequently seen local nesting species). But when I lifted my binoculars to the bird in the tree it was obviously not a Baltimore Oriole, with a brighter golden-yellow color, mostly yellow head, and black wings. In that split second as my brain spun in an effort to make sense of what I was seeing, the first "match" that came up was male Hooded Oriole! That would be a first record for Massachusetts, but before I could even get excited about that possibility it was ruled out by the all-black wings and all-yellow head. And I realized that I must be looking at an abnormally-colored male Scarlet Tanager.
After only a second or two the bird was chased off by a typical red male Scarlet Tanager. I didn't see it again for almost three weeks, until it reappeared very briefly in the same place on July 8th. That time I saw it from below and could see that the center of the belly was smudged with orange, closer to the typical Scarlet Tanager color.
I've seen many slightly orange-toned male Scarlet Tanagers. These are usually first-summer males (one year old), and look a bit drab, a less intense red with a hint of orange. It seems like they are meant to be red but for whatever reason their pigment is just not as saturated as it should be. This bird was different. It was just as brilliantly colored as a typical male Scarlet Tanager, but yellow instead of red. It seemed committed to yellow. That's a simplistic observation but there might be some truth in it.
The carotenoid compounds that produce the red and yellow colors of birds are acquired through their diet, and then processed in the body into pigments that are deposited in the growing feathers. If a bird has a shortage of carotenoids, from poor diet or poor health, its feathers won't develop their full color. This yellow Scarlet Tanager must have plenty of carotenoids (it needs those to produce any bright color, red or yellow), but it might have a mutation to the chemical process so it produces yellow pigment instead of red.
---
Update 27 Jul 2020: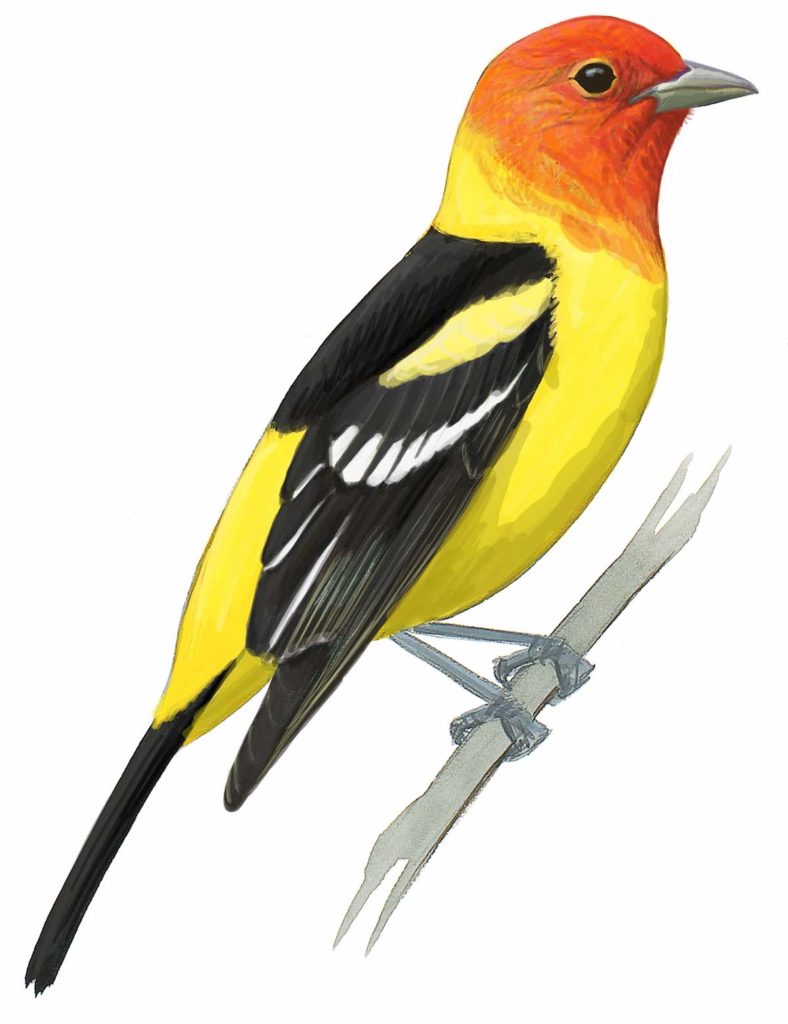 A reader on Facebook asked if this bird's yellow color could be the result of hybridization with Western Tanager, which has a yellow body and orange-red face. That's a good question and worth an explanation. I'm confident that a hybrid can be ruled out by the entirely yellow back and the absence of pale wingbars. Male Western Tanager has a solid black back and prominent white and yellow wingbars (pale tips on the median and greater coverts). A hybrid would be expected to show intermediate features, and this bird does not. It shows the typical Scarlet Tanager pattern with all-black wings and no black on the back.
---
Update 30 July 2020:
Remarkably, after posting this I heard from Mary Boschetti (Instagram), who had just photographed a nearly identical Scarlet Tanager in Washington, Massachusetts (about 30 miles west of me). The photo shows paler brownish-black wing coverts and secondaries indicating a one-year-old male. (I didn't see the Deerfield bird well enough to determine the age.) Some might wonder whether these two observations could be the same individual bird. It's possible but I think the odds of that are vanishingly small. The two locations are about 30 miles apart, and in the forests of this region there must be tens of thousands of Scarlet Tanagers.