In a previous post I wrote about false faces in birds, using the example of a Downy Woodpecker to show how color patterns create the illusion that the bird is looking straight at you when, in fact, it is looking the other way. I promised a few more examples, so here they are:
First, one of the classic examples, here is a painting I did of a Northern Pygmy-Owl showing the pattern of "false eyespots" on the back of the head. Other species of pygmy-owls have the same pattern. Northern Hawk-Owl also has a bold pattern on the back of the head that creates the illusion of a face.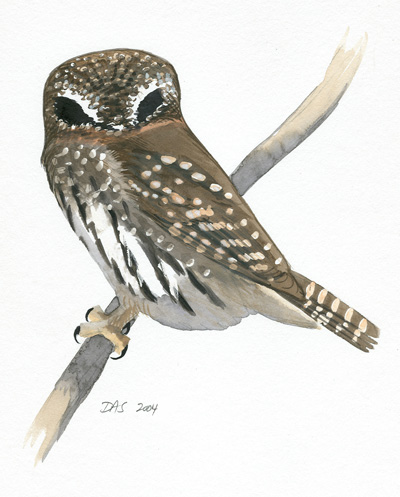 At Saint John, USVI in December 2009, I spent some time watching the local Scaly-naped Pigeons (Patigoenas squamosa) feeding in the treetops, and I was often momentarily confused about which way the bird was facing. The very simple pattern on the crown and nape was surprisingly effective at creating the illusion of a face.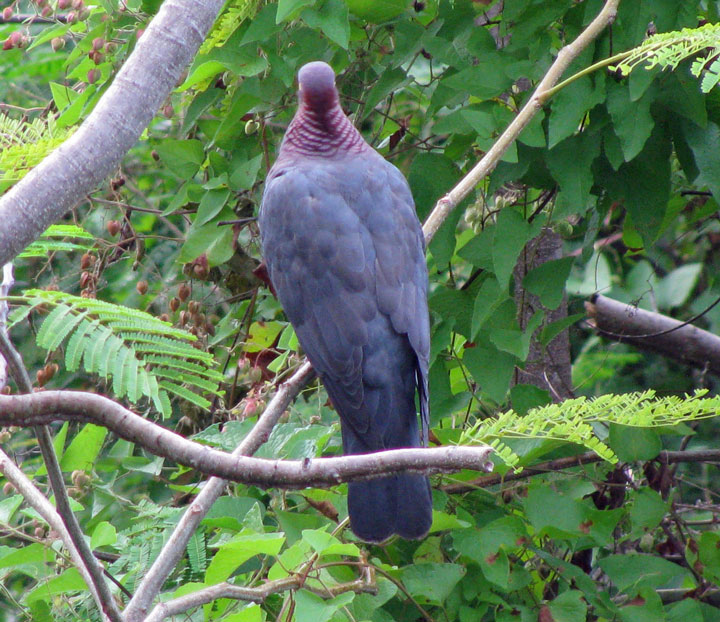 Finally, thanks to Chuck Carlson, here is a photo of a Sharp-shinned Hawk mantling prey on the ground. The white spots on the wing coverts, together with the dark shadow between the wings, can be seen as a face. You may not be convinced by this photo, but I have been convinced by several experiences in the field during which I was struck by the very strong impression of a face on the back of Sharp-shinned Hawks in this position. Presumably Cooper's Hawk is the same. Cooper's Hawk also has a subtle false face illusion on the back of the head, as do many other hawks.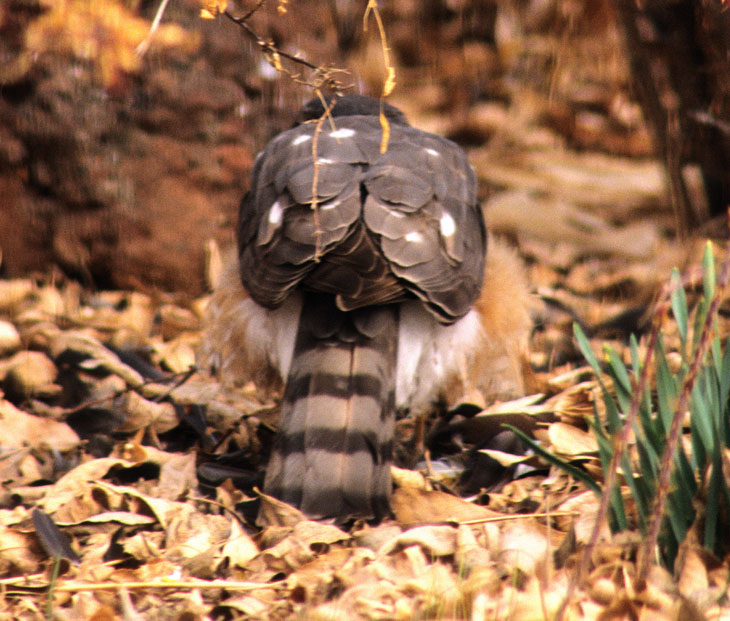 As evidence of the effectiveness of these false faces, and the ability of species to see faces of very distantly related species, I will point to one example: Researchers who venture into gull and tern colonies are subject to dive-bombing attacks from the birds, and sometimes wear masks (of human faces) on the backs of their heads to fool the birds. These false faces are apparently very effective at preventing attacks.