The European Starling is often ignored, or worse, by North American birders, but if you can get past the fact that it's aggressive, very good at living with humans, and has been in North America "only" since 1890, it's a fascinating bird. As I looked up some other maps in the Canadian Atlas of Bird Banding recently. I was struck by the unusual migration pattern that is revealed there for European Starling.
First, here is a map showing the pattern of band recoveries for American Robin. This pattern is typical of many North American species – most birds west of the Rocky Mountains migrate south and west to winter west of the Rockies, and birds east of the Rocky Mountains migrate southeast to winter in the relatively wet and bountiful southeastern states.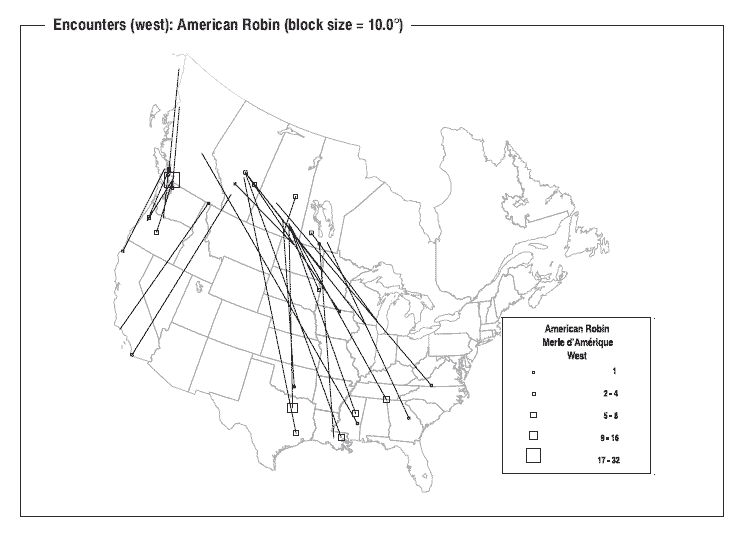 Now, here is the map of European Starling recoveries. These birds seem to head south-southwest, regardless of their northern terminus ((In these maps the end points of each line simply represent the banding location and the recovery location. In some cases the birds were banded in the south and moved north, in others vice versa, and in many cases the recovery came years after the banding. The straight line obviously doesn't represent the actual track the bird followed.)). Birds from Alberta and even Saskatchewan migrate over the Rocky Mountains to winter in the Pacific states or the mountain west.
White-crowned Sparrow is the only other species mapped in the Atlas that seems unfazed by the Rocky Mountains and has a somewhat similar migration pattern (map below). With a bit of speculation, I can think of two plausible explanations for the unusual migration pattern of European Starling (and I'm sure there are more).
Since the direction of migration is genetically determined, and since Starlings colonized North America so rapidly from east to west, maybe as they moved west they simply maintained the southwesterly fall migration that had worked in eastern North America. Of course, it would have to work for them in the west as well, otherwise those birds would not survive and a new migration pattern would arise.
Perhaps migrating over the Rockies from central Canada to the US southwest is not difficult, and most native species migrate southeast either because they are genetically locked into it by something in the distant past, or because there is no suitable habitat for them in the southwest.
European Starling has been the subject of a lot of migration research in its native Europe, and it looks like research on its migratory habits in North America would be likely to yield some very interesting results.
References:
Brewer, D., A. W. Diamond, E. J. Woodsworth, B. T. Collins, and E. H. Dunn. 2000. Canadian Atlas of Bird Banding. Volume 1: Doves, Cuckoos, and Hummingbirds through Passerines, 1921–1995. Canadian Wildlife Service. pdf here: http://dsp-psd.pwgsc.gc.ca/Collection/CW69-15-1-1-2000E.pdf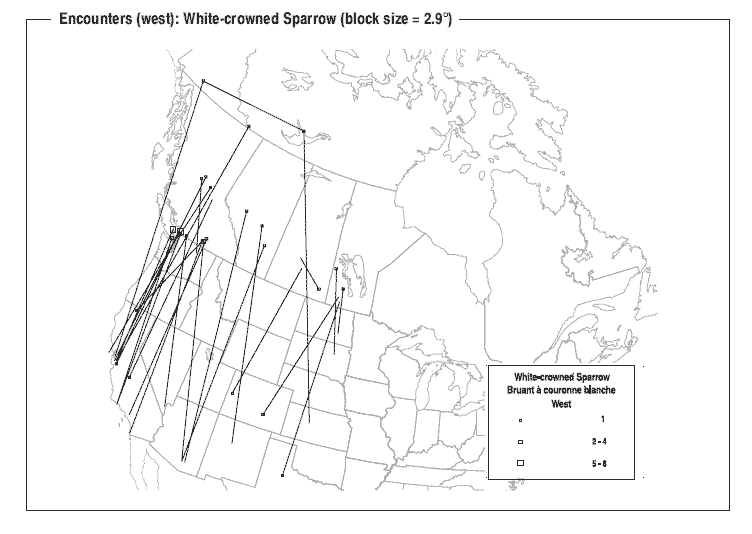 Footnotes: