There are five subspecies of White-crowned Sparrow, and in most parts of North America it is possible to see more than one subspecies during part of the year. Identification of subspecies is covered in the Sibley Guide to Birds and in Dunn et al. 1995. Maps of band recoveries (from the Canadian Atlas of Bird Banding) offer insight into, and raise questions about, two of these identification challenges: separating the two dark-lored subspecies, Mountain West vs. Eastern, and distinguishing Gambel's (Western Taiga) birds among Eastern Taiga birds in the eastern states.
Mountain West vs. Eastern White-crowned Sparrows
The separation of Mountain West White-crowned Sparrows (Z. l. oriantha) and Eastern White-crowned Sparrows in winter and migration (Z. l. leucophrys) is based mostly on assumptions about range. The map below shows recoveries of banded White-crowned Sparrows either coming from or going to eastern Canada. All of these birds are presumably the eastern subspecies Z. l. leucophrys, but the banding records show that they travel far to the southwest in winter – often as far as central Texas.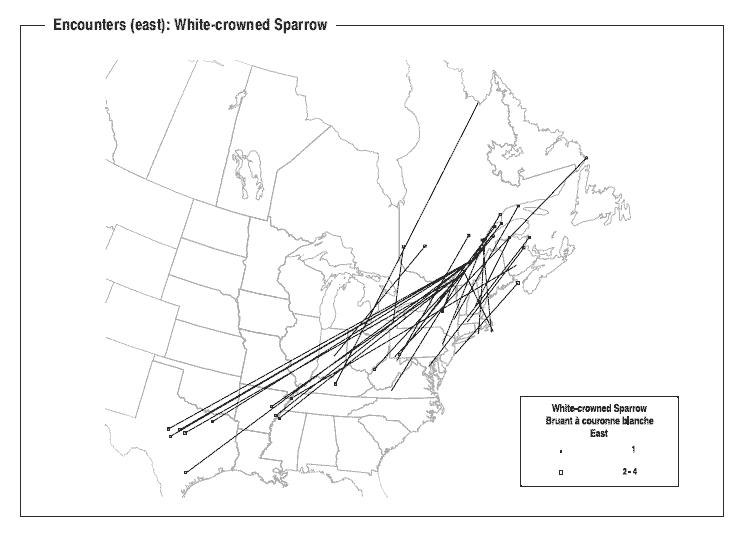 The Mountain West subspecies Z. l. oriantha (which has dark lores like Eastern leucophrys) is assumed to account for the dark-lored birds wintering in west Texas, but it seems likely that at least some leucophrys are mixed in there. Eastern leucophrys should also be expected to overshoot at least occasionally to New Mexico, Arizona, and even California. In addition, Mountain West White-crowneds seem likely to stray east of their normal range and show up among leucophrys in central Texas or farther east. Identification is the real challenge, as these two subspecies have often been lumped by ornithologists who could not see any difference even when working with museum specimens! Winter range alone is not sufficient for identification. Calls and songs should provide a clue, and there are some subtle plumage differences that may prove reliable. All it needs is some diligent field study.
Gambel's (Western taiga) vs. Eastern White-crowned Sparrows
Gambel's (Western Taiga) White-crowned Sparrows Z. l. gambelii have pale lores and nest from the western side of Hudson Bay to Alaska, but all around the southern end of Hudson Bay into Quebec they intergrade with dark-lored Eastern Taiga birds Z. l. leucophrys. Across this wide intergrade zone the nesting birds are a mixture of dark-lored, pale-lored, and intermediate.
Gambel's-type birds are reported annually (mostly in fall) in the northeastern states, and I have seen several in New Jersey and Massachusetts that looked very convincing for this subspecies. The problem is that, judging by the map below, true Gambel's White-crowned Sparrow should be an extremely rare visitor to the northeast.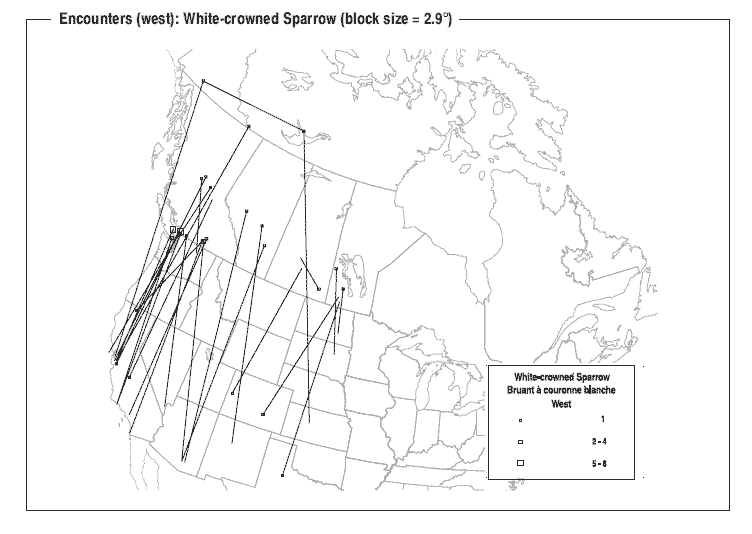 The map shows band recoveries of White-crowned Sparrows coming from or going to Western Canada – all Gambel's – and they all follow a relatively strict north-south movement. It's dangerous to generalize between species, of course, but it just doesn't seem like these birds should show up in the east more often than, say, Harris's Sparrow.
Vagrant gambelii from west of Hudson Bay or from Alaska undoubtedly do occur rarely in the east, but the vast majority of reported gambelii there must be merely pale-lored birds from the variable and mixed populations east of Hudson Bay. The status of pale-lored birds in northern Quebec well east of Hudson Bay is poorly-known, but they may occur there in small numbers. Further field work is needed to determine the range of pale-lored birds, and to look for any possible differences between these pale-lored Eastern birds and true Gambel's from the west.
References:
Brewer, D., A. W. Diamond, E. J. Woodsworth, B. T. Collins, and E. H. Dunn. 2000. Canadian Atlas of Bird Banding. Volume 1: Doves, Cuckoos, and Hummingbirds through Passerines, 1921–1995. Canadian Wildlife Service. pdf here: http://dsp-psd.pwgsc.gc.ca/Collection/CW69-15-1-1-2000E.pdf
Dunn, J.L., K.L. Garrett, and J.K. Alderfer. 1995. White-crowned Sparrow Subspecies: Identification and Distribution. Birding 27:182-200.