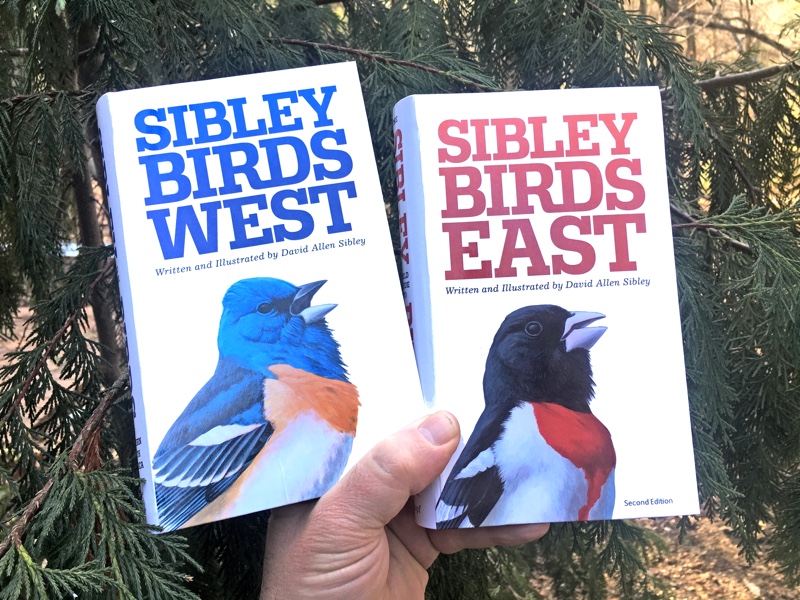 More information about the Western Guide and the Eastern Guide
After two years of work, the completely redesigned and revised editions of my Eastern and Western Field Guides will go on sale March 29, 2016. The new editions are the same size as the 2003 versions, but the layout has been changed to match the format of the larger Sibley Guide to Birds, with each species in a vertical column, name at the top, map at the bottom, etc., making comparisons much easier.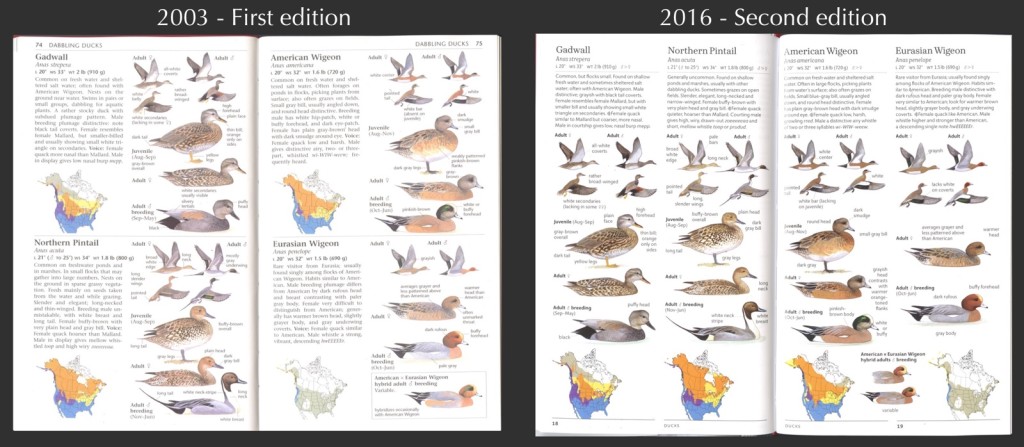 Links to the books at online retailers:
Amazon: Eastern Guide and Western Guide
Barnes and Noble: Eastern Guide and Western Guide
IndieBound: Eastern Guide and Western Guide
These books are built out of all of the new material created for the 2014 edition of the Sibley Guide to Birds:
many new images and new species added
most images revised and all rescanned
all text revised and updated
all maps revised
following the latest AOU species names and taxonomy
And these books even go a step further, incorporating taxonomic changes since 2014 – such as the split of Ridgway's Rail – and adding several new introduced species: Pin-tailed Whydah is added to both books based on breeding records in California and Florida, and Japanese White-eye, White-collared Seedeater (Cinnamon-rumped subspecies), Bronze Mannikin, and Orange-cheeked Waxbill are all found in southern California and added to the Western Guide.
The 2016 Tour
List of confirmed events (so far)
The books officially go on sale March 29th, and from that date through May I'll be traveling to lots of bookstores, nature centers, and bird festivals to talk about them. I've put together a list of the events that have been confirmed so far. You can see the calendar view and a map of all of these at the Events page here on my website. There are still a lot of things "in the works", so check in later to see if an event has been added in your area.
Getting a signed book
The best way to get a signed copy of any of my books this spring is to come to a book-signing. Alternatively you can generally pre-order a signed (and personalized) copy of any of my books from any of the bookstores I'll be visiting. Just contact the store ahead of my visit to ask about purchasing and shipping signed books. Because I'll be traveling so much, and to avoid any competition with bookstores, I will not be selling signed copies of any books on my website this spring. Book sales here will reopen at some point in the future.
Updates and corrections
I've started a page for each guide listing updates and corrections:
If you think you have found an error, or have a question or comment about the books, you can check there to see if it has already been discussed, and feel free to leave a comment or send an email to me through the contact tab above.