Some tips on how to use the app are here
---
Check out my in-depth discussion of this issue. Playback is a disturbance to birds and to other birders. It should be used as little as possible, especially in popular birding spots and places where other birders are present. It is illegal in many parks and refuges, and it is illegal to disturb any threatened or endangered species. If you do use it, be very sensitive to the birds and to any nearby birders. keep the volume low and play just a few short snippets of sound, then watch and wait.
No, this is a universal app and works on both phones and tablets. As long as the devices are on the same platform (e.g. iPhone and iPad both run iOS) and both devices are signed in to the app store with the same ID, you will be able to pay once and download and use the app on all of those devices.
As long as your new device is on the same platform as your previous phone (e.g. iPhone and iPad both run iOS) and you are signed in to the app store with the same ID, you will be able to download any previously purchased apps to any new devices. The app is not transferable to a new operating system, so if you switch from iPhone to Android, for example, your previous purchases in the Apple App store will not be available for your new Android phone or vice versa. In that case, unfortunately, you would need to pay for the app again.
You can find a key to the range map colors inside the front cover of the bird guides. An easy way to remember the color scheme is that red (warm color) means summer range, blue (cool color) means winter range. Where birds are resident (summer and winter) the two colors combine to make purple. Yellow indicates areas where the species is found only on migration, and drab olive-gray indicates areas where the species occurs only as a rare visitor.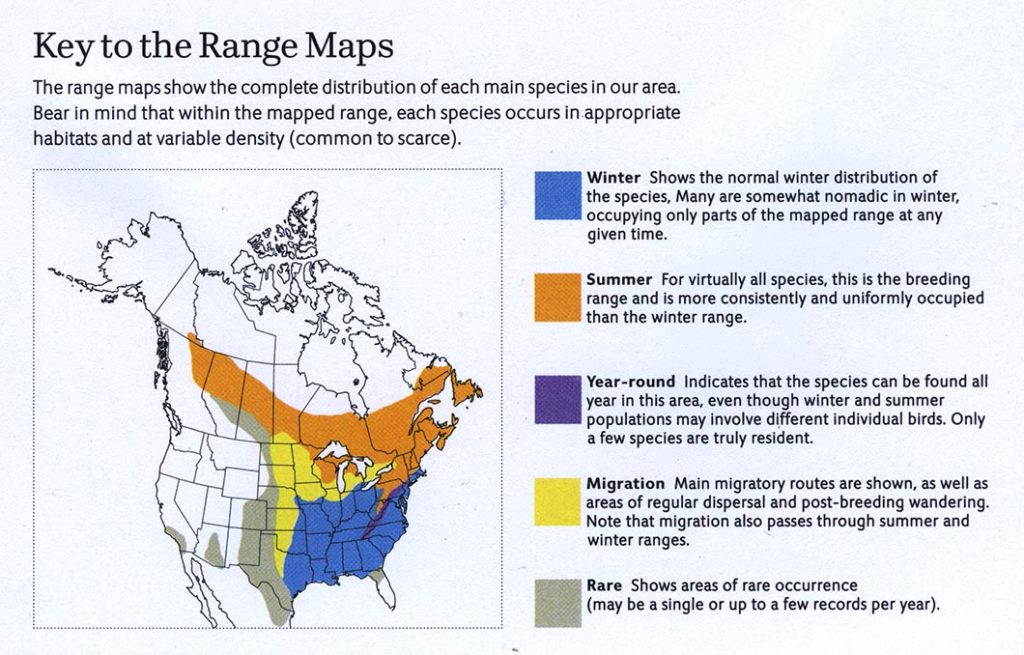 Because the original app is no longer being supported it could cease to function with any update of the operating system of your phone. If you continue using it, be sure to regularly back up any list data that you keep in the app. See my blog post here.
If you want to reinstall the first edition Sibley eGuide app on your device, you will discover that it is no longer listed in the app store. You can still find it in your purchase history.
With the release of the new second edition of the app in 2018, the first edition is no longer being supported or sold, and has been removed from the catalog in the app store. It is still available for download to anyone who already owned it. Simply log in to your app store account and view your "purchased" apps. The Sibley eGuide to Birds v1 should show up there and be available for download.
There are five levels of status used to indicate the likelihood of encountering a species in a given state or province. The first three categories are used for regularly occurring species that are reliably present in appropriate season and habitat. The last two categories are used for species that are not always present and not expected, even in prime habitat and season.
C   Common – Common, numerous, expected on every outing, although this might only be true in part of the selected state or province.
U   Uncommon/Local – Uncommon, Scarce or local, generally present and expected, but not necessarily seen on each outing and/or takes some extra effort to locate and/or expected only in a small part of the selected state or province.
S   Scarce/Very local – Occasional, or very local, not always present (or present in very small numbers in limited area) but still more or less expected and predictable in occurrence. Scarce/local breeders can generally be found readily by traveling to a known location. Scarce/local migrants take luck and/or extra effort to locate, and are worth mentioning to other birders.
R   Rare – not always present, recorded annually but only a few times a year or less, averaging more than one a year in recent years; occurrence may be predictable to some extent, but not reliable. Always worth reporting to other birders, and should be documented with photos and notes.
V   Very rare– Extremely rare, accidental; fewer than ten records (or no records) in the last 20 years or so; many years may pass without a confirmed record. You are very unlikely to find these species. These should be carefully documented with photos and notes, and are always worth reporting to other birders as quickly as possible.

No. Only species found in the continental US and Canada (north of Mexico) are included. Additional species found in Hawaii, Mexico, the Bahamas, etc. are not included in the Sibley Guide to Birds.
Nothing. These are two entirely separate apps and you can keep both on your device. Note that each one is over 500 MB in size, so keeping both will occupy a lot of storage on your device.
No, there is no difference in the function of the v2 app between Android or Apple (or Amazon or Windows PC\Tablet – coming soon). There are differences in styling due to underlying differences in the operating systems, and different layouts on different screen sizes, but the features of the app are identical in all cases.
The new v2 app is currently (Apr 2019) available for devices running iOS (Apple) and Android. A version for Amazon devices should be available in April 2019, and a version for Windows PC/Tablet is expected in June 2019. New Blackberry devices run Android and can install that version of the app. The v2 app is not available for older Blackberry devices running the Blackberry operating system. The v2 app will not be available for Windows Phone OS.
No. Once the app is installed on your device it does not require any connection. All of the data, images, and sounds are stored in the device's memory and will work without any internet connection.
---
New in November 2018! The new Sibley Birds app has arrived with comprehensive, up to date information of over 930 North American species. All the detailed artwork from David Sibley's Guide to Birds Second Edition is included as well as thorough descriptions and distribution maps.
Features include:
• A new easy to navigate menu system on iPhone.
• A new grid view with larger thumbnails.
• Display species names in English, French, Spanish and Latin (Scientific).
• Search on banding code to quickly find a species.
• Over 2700 calls/songs covering most species.
• Compare 2 species side by side.
• Apply a location (US State or Canadian Province) to narrow down the list of birds.
• When a location has been selected, a status icon will appear next to each species in that location indicating whether it is Common, Uncommon, Scarce, Rare or Very rare.
• Detailed information in the species description including location status by month.
• A similar species feature which shows all related birds.
• A vastly improved Smart Search with refined search criteria: Status and by month (when a location is selected), Bird habits, Bird Type, Bird Size, Body Shape, Color and Pattern.
• Keep a personal list (My List) of species seen and backup to iCloud/other cloud service.
• Sort My List taxonomically.
Version History
November 2018 – v2 released
December 2018 – two minor updates for corrections and bug fixes
April 2019 a major update (iOS and Android) adds the following improvements:
added over 200 new audio recordings and cleaned up some issues with existing recordings
Status and monthly status filters are now grouped with Location so they are global settings (not just in Smart Search). Current selections are shown at the top of every list screen, and tapping the info there leads directly to the settings screen where location and status filters can be changed. Also, turning location off and back on will return automatically to the most recently selected location.
A new Tags feature lets you create your own species lists that are sharable (as csv files) and searchable (in Smart Search)
improved display of audio data to show sound type, location, and recordist
Fixed list display so that whether you select "alphabetic" or "taxonomic" the list will continue to be shown in that order, rather than reverting to "taxonomic" every time.
Many updates to text and monthly status data, and other tweaks and bug fixes
December 2019 – Many updates to content:
Added two new species – Nazca Booby and Stejneger's Scoter
added a few new images for existing species such as a variant of American Wigeon known as "Storm" wigeon, intergrade Northern Flickers, etc, and updated images for several other species.
added horizontal lines to help visually separate images
added over 100 new audio recordings
corrected a few audio recordings and updated labels for hundreds
updated text, status, and other data for many species