Now updated by a new post Progress on the Orange-throated hummingbird mystery. This adds to my previous post about orange-throated hummingbirds.
After hearing from a couple of hummingbird banders affirming that they do not see a change in throat color in the fall as male Ruby-throated Hummingbirds go though their summer molt (and the fact that banders have been aware of this molt for many years) I will have to modify my previous post suggesting that the birds molt into an orange-throated nonbreeding plumage. It was a very neat and simple hypothesis, explaining all of the data that I had, but it looks like it's a "just-so story".
In addition, it appears that there may not be a connection between the occasional orange-throated males seen in late summer (before molt, according to the hummingbird banders) and the orange-throated winter specimens at MCZ (after molt).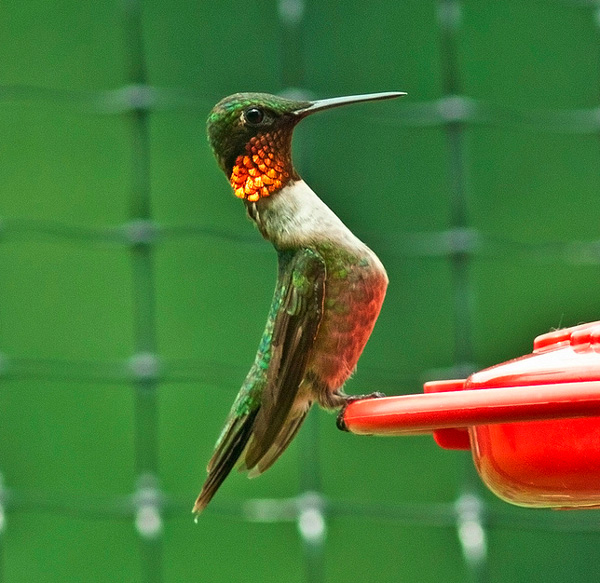 In July 2011, Mark Szantyr photographed this male Ruby-throated Hummingbird with an orange throat in Connecticut, and has allowed me to post a couple of his photos of that bird here as part of this discussion. You can see the rest of the photos and more at Mark's website.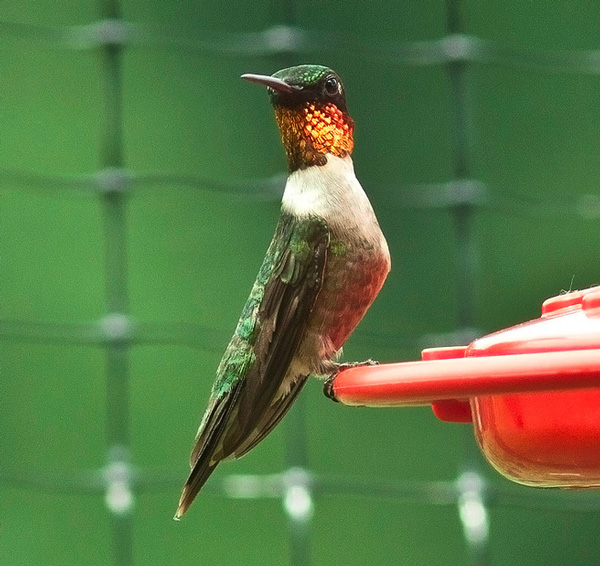 The date of this orange-throated bird – 11 July – is too early for it to have completed molt. Dittmann and Cardiff found the peak of molt in mid-July through August, with throat feathers molted throughout the period but the throat generally in the later stages of molt for any individual bird. This individual also doesn't show the drab fringes on the gorget feathers that are apparent on the MCZ specimens, instead it seems to have a brilliant and uniform orange gorget.
This shift to orange color is presumably the result of a slight alteration in the structure of the gorget feathers, so that they reflect very slightly shorter wavelengths of light. I still doubt that it has anything to do with wear, for two main reasons: 1) if this was caused by wear I would expect to see a lot more such birds in late summer, but they are extremely rare. 2) If this was caused by wear I would expect the throat to be less uniform in color, as wear would not affect all the feathers precisely the same way. (Update 16 August – apparently an orange shift can be the result of wear, see my later post)
The brilliant iridescent throat color is produced by tiny air bubbles that are prefectly calibrated in thickness to reflect a certain wavelength of light. A shift to more orange color would require a slight thinning (or collapse) of the air bubbles on the order of nanometers… maybe that could happen as the feathers age, but again I would expect that effect to be more uneven (with some feathers still reflecting red) and more common.
My suspicion is that this bird molted into these feathers in the spring, and has been the same color since then. In that case orange-throated hummingbirds should show up during spring migration. All of the reports I have heard have come from late summer and fall, but maybe that's just the season when most Ruby-throated Hummingbirds are seen and studied. Have orange-throated birds like this ever been seen in spring? (Update 16 August – orange shift can be caused by wear, see my later post, but it's also possible that some birds begin the summer with more orange feathers, so still worth watching for orange-throated males in spring).
The drabber and more orange-toned throat color of the MCZ specimens remains a mystery. I'll continue to check museum collections as I am able, and I'd be very grateful for any info from others. It would also be helpful to know if observers who see this species on the wintering grounds in Mexico and Central America see this variation in throat color in real life.
Thanks to Mark Szantyr for the photos, and to Cathie Hutcheson and Scott Weidensaul for comments.